| | |
| --- | --- |
| Our Customers | Last update: Nov. 2016 |
Current SoDa annual subscriptions - They have also trusted us - Partnerships
Current SoDa annual subscriptions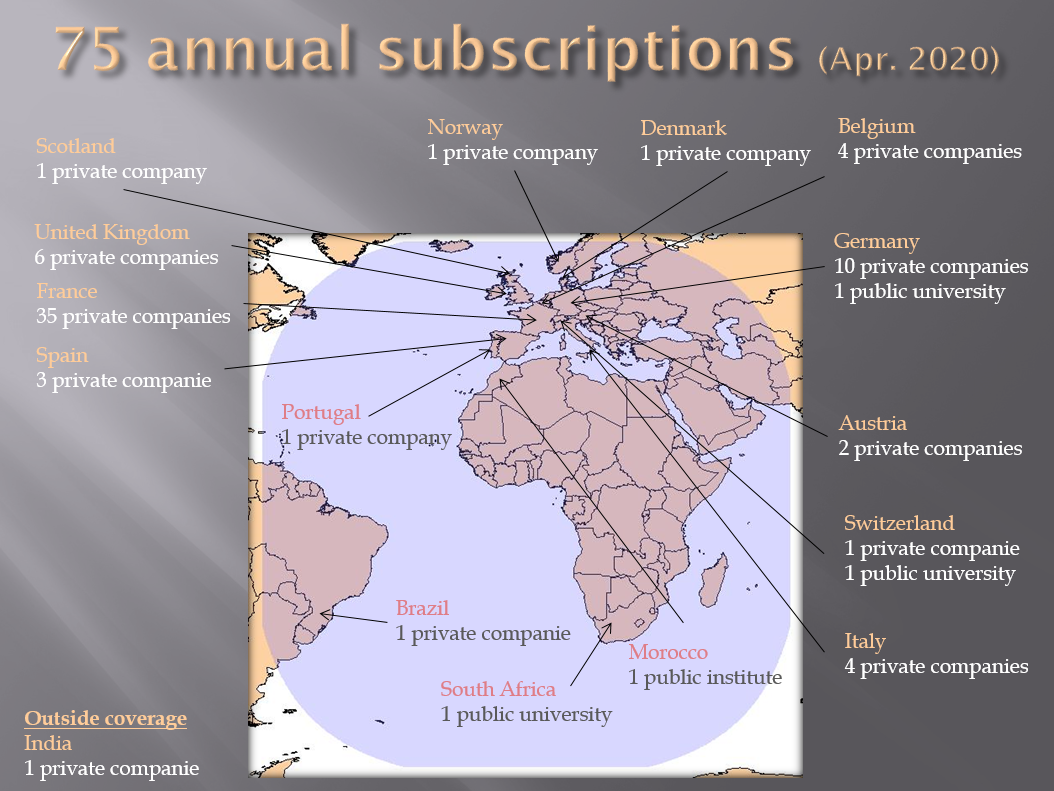 They have also trusted us!
ACTEAM (fr)
ADVARTIA (gr)
AIREFSOL (fr)
AIRLIGHTENERGY (ch)
ALATEC (es)
ARA (us)
ARCADIS (de)
ARMORGREEN (fr)
ARTELIA (fr)
ASTROM (it)
ATV (be)
AWSTRUEPOWER (us)
AXENNE (fr)
BEC-Engineering (de)
BELECTRIC (fr)
BOEING (es)
CABIRA (Côte d'Ivoire)
CAMCO (uk)
Capital Stage Solar Service (de)
CEA-LITEN (fr)
CENER (es)
CNRS Dijon (fr)
CONCENTRIX (de)
CONDOINTERNET (us)
CRS4 (it)
CSTB (fr)

DII (de)
DMSE (fr)
EAC (cy)
ECODD (fr)
EDISON (it)
ENEA (it)
ENERCAST (de)
ENERGOGREEN (it)
ENERGYNAUTICS (de)
ENERPHOTON (it)
ENTPE (fr)
EOLERES (fr)
EOLTECH (fr)
EPFL (ch)
FAKTOR-3 (dk)
FICHTNER (it)
GEOMODEL (Slovakia)
GESTO (pt)
GLOBALECOPOWER (fr)
GRENERGY (es)
GRUPOTEC (uk)
HAWE (de)
ILIONVENTURES (uk)
INES (fr)
IRESEN (mo)
ISI Fraunhofer (de)

ISOFOTON (es)
JENDRA (ch)
LAHMEYER (de)
LOMBARD (fr)
MASEN (mo)
MEEDDM (fr)
MIND4ENERGY (be)
MORONIE Partners (it)
NEOELECTRA
NEOEN (fr)
NURENERGY (uk)
OKWIND (fr)
Open Source Design Ltd (uk)
OST (it)
OVE ARUP (uk)
PARABEL (uk)
PEERPLUS (nl)
PHOTON (de)
PHOTOWATT (fr)
PHOVENTURE (fr)
POYRY (uk)
PROJEENERGIE (tk)
RAE (gr)
REUNIWATT (fr)
SALIXINGENIEROS (es)

SAMSOLAR (fr)
SOITEC (fr)
SOLARCO (fr)
SOLARENG (de)
SOLAREYE (fr)
SOLARIG (es)
SOLPEG (de)
SOLVEO (fr)
SUNPOWER (fr)
TEI (gr)
TELECOMITALIA (it)
TOTAL (fr)
TRACTEBEL (be)
Univ. Aachen (de)
Univ. Dijon (fr)
Univ. Rabat (mo)
Univ. Wien (au)
UPM (es)
VALOREM (fr)
Viktoria ICT (Sweden)
VOLTALIA (fr)
VOL-V (fr)
WINCHENERGY (it)
...
Partnerships
In Sun We Trust
It was with a great pleasure that MINES ParisTech and Transvalor got involved with In Sun We Trust for this promiting project: provide over the city of Nantes in France a high spatial resolution (value) information of radiation and photovoltaic and financial.
Objectifs of the project, in brief:
First, this project aims at supporting photovoltaic projects by providing for FREE and with a few clicks a precise estimation of the financial viability and the return on investment via an innovative and interactive tool,
and then by putting customers in touch with highly qualified and trustworthy panel installers, rigorously selected and who have signed a policy.
More information (in French) on the site of Ministry of Environment, energy and seas, and on the site jaimelesstartups which promotes French start ups.
Plat-form 1 over Nantes, plat-form 2 over Nantes, plat-form 3 over Rhin Vignoble Grand Ballon