| | |
| --- | --- |
| HelioClim-3 Similarity Forecast - Validation results | Last update: Jul. 2017 |
Validation results for the Global Horizontal Irradiation values and for different time steps (monthly, daily, hourly and 15 min data). To produce these results, the HelioClim-3 version 4 Solar Similarity Forecast data at D+1 have been compared to the BSRN stations (see illustration below).
NB: we adopted the validation protocol and the quality check procedure described on the SoDa website.
Figure 1: locations of the BSRN stations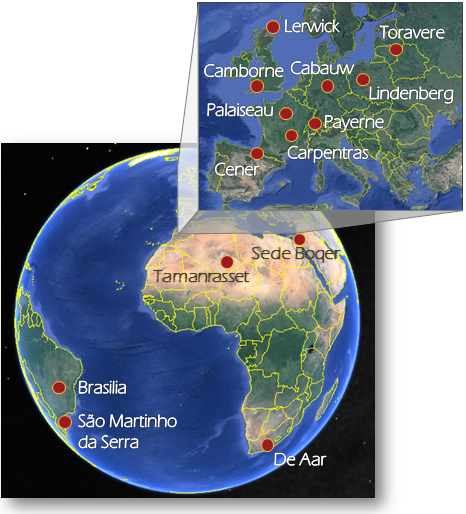 Quality assessment results of GHI values
HelioClim-3 v4 Solar Similarity Forecast service -- GHI Quality assessment results vs. the BSRN stations
MONTHLY SUM OF 15 MIN IRRADIATION
Station
Number of values
Mean
- BSRN -
(kWh/m2)
Bias HC3v4
(kWh/m2)
(relative in %)
Bias Forecast
(kWh/m2)
(relative in %)
RMSE HC3v4
(kWh/m2)
(relative in %)
RMSE Forecast
(kWh/m2)
(relative in %)
Correl. coeff.
HC3v4
Correl. coeff.
Forecast
Toravere
50
86.9
-2.8 (-3.2%)
-2.4 (-2.8%)
8.3 (9.6%)
11.1 (12.8%)
0.987
0.974
Cabauw
65
88.2
-3.1 (-3.5%)
-3.7 (-4.2%)
7.3 (8.3%)
12.0 (13.6%)
0.994
0.980
Palaiseau
54
103.7
3.5 (3.4%)
2.6 (2.5%)
6.0 (5.8%)
11.9 (11.5%)
0.998
0.981
Payerne
29
107.8
-8.5 (-7.8%)
-11.0 (-10.2%)
10.1 (9.4%)
16.2 (15.0%)
0.996
0.985
Carpentras
61
130.0
1.3 (1.0%)
-0.4 (-0.3%)
3.8 (2.9%)
9.2 (7.1%)
0.999
0.990
Sede Boqer
44
166.9
-11.7 (-7.0%)
-12.9 (-7.8%)
13.9 (8.3%)
14.2 (8.5%)
0.992
0.995
Tamanrasset
65
159.9
0.1 (0.1%)
0.2 (0.1%)
8.1 (5.1%)
10.6 (6.6%)
0.973
0.953
Brasilia
27
144.8
5.7 (4.0%)
8.5 (5.8%)
7.7 (5.3%)
12.6 (8.7%)
0.989
0.958
Sao Martinho da Serra
32
141.2
-1.9 (-1.3%)
-3.5 (-2.5%)
4.2 (3.0%)
10.9 (7.8%)
0.997
0.978
HelioClim-3 v4 Solar Similarity Forecast service -- GHI Quality assessment results vs. the BSRN stations
DAILY SUM OF 15 MIN IRRADIATION
Station
Number of values
Mean
- BSRN -
(Wh/m2)
Bias HC3v4
(Wh/m2)
(relative in %)
Bias Forecast
(Wh/m2)
(relative in %)
RMSE HC3v4
(Wh/m2)
(relative in %)
RMSE Forecast
(Wh/m2)
(relative in %)
Correl. coeff.
HC3v4
Correl. coeff.
Forecast
Toravere
1481
2795.3
-82.1 (-2.9%)
-56.4 (-2.0%)
445.3 (15.9%)
1140.4 (40.8%)
0.978
0.843
Cabauw
1946
2940.1
-103.6 (-3.5%)
-123.1 (-4.2%)
378.1 (12.9%)
1106.9 (37.6%)
0.987
0.868
Palaiseau
1639
3412.4
114.2 (3.3%)
101.1 (3.0%)
332.4 (9.7%)
1144.7 (33.5%)
0.991
0.867
Payerne
877
3558.8
-278.9 (-7.8%)
-360.5 (-10.1%)
467.7 (13.1%)
1263.8 (35.5%)
0.987
0.862
Carpentras
1824
4359.2
43.5 (1.0%)
-14.4 (-0.3%)
319.3 (7.3%)
1168.1 (26.8%)
0.992
0.881
Sede Boqer
1287
5647.8
-398.2 (-7.1%)
-418.3 (-7.4%)
553.4 (9.8%)
741.6 (13.1%)
0.981
0.949
Tamanrasset
1723
5624.6
6.3 (0.1%)
25.3 (0.4%)
566.3 (10.1%)
902.5 (16.0%)
0.908
0.762
Brasilia
761
5073.7
194.7 (3.8%)
306.4 (6.0%)
583.5 (11.5%)
1046.0 (20.6%)
0.911
0.662
Sao Martinho da Serra
970
4721.2
-67.2 (-1.4%)
-148.5 (-3.1%)
405.3 (8.6%)
1742.7 (36.9%)
0.986
0.672
HelioClim-3 v4 Solar Similarity Forecast service -- GHI Quality assessment results vs. the BSRN stations
HOURLY SUM OF 15 MIN IRRADIATION
Station
Number of values
Mean
- BSRN -
(Wh/m2)
Bias HC3v4
(Wh/m2)
(relative in %)
Bias Forecast
(Wh/m2)
(relative in %)
RMSE HC3v4
(Wh/m2)
(relative in %)
RMSE Forecast
(Wh/m2)
(relative in %)
Correl. coeff.
HC3v4
Correl. coeff.
Forecast
Toravere
18095
221.9
-6.0 (-2.7%)
-3.3 (-1.5%)
60.3 (27.2%)
126.5 (57.0%)
0.958
0.800
Cabauw
22886
249.6
-9.0 (-3.6%)
-10.8 (-4.3%)
56.7 (22.7%)
126.9 (50.8%)
0.968
0.821
Palaiseau
19680
285.1
9.3 (3.3%)
6.6 (2.3%)
51.4 (18.0%)
134.1 (47.1%)
0.978
0.830
Payerne
10167
306.7
-24.3 (-7.9%)
-31.6 (-10.3%)
67.3 (22.0%)
144.3 (47.1%)
0.970
0.839
Carpentras
21959
362.3
3.5 (1.0%)
-1.9 (-0.5%)
47.2 (13.0%)
133.7 (36.9%)
0.986
0.878
Sede Boqer
14417
505.6
-35.3 (-7.0%)
-39.0 (-7.7%)
69.2 (13.7%)
98.0 (19.4%)
0.982
0.957
Tamanrasset
20996
479.2
0.7 (0.1%)
0.4 (0.1%)
71.7 (15.0%)
120.6 (25.2%)
0.974
0.926
Brasilia
9428
417.1
16.4 (3.9%)
24.2 (5.8%)
110.4 (26.5%)
154.2 (37.0%)
0.933
0.860
Sao Martinho da Serra
11567
396.3
-5.8 (-1.5%)
-13.0 (-3.3%)
73.3 (18.5%)
190.6 (48.1%)
0.971
0.787
HelioClim-3 v4 Solar Similarity Forecast service -- GHI Quality assessment results vs. the BSRN stations
15 MIN IRRADIATION
Station
Number of values
Mean
- BSRN -
(Wh/m2)
Bias HC3v4
(Wh/m2)
(relative in %)
Bias Forecast
(Wh/m2)
(relative in %)
RMSE HC3v4
(Wh/m2)
(relative in %)
RMSE Forecast
(Wh/m2)
(relative in %)
Correl. coeff.
HC3v4
Correl. coeff.
Forecast
Toravere
71550
61.6
-2.0 (-3.2%)
-1.7 (-2.8%)
20.4 (33.2%)
36.0 (58.5%)
0.935
0.779
Cabauw
88643
64.7
-2.3 (-3.5%)
-2.7 (-4.2%)
19.0 (29.4%)
35.3 (54.6%)
0.944
0.787
Palaiseau
76660
73.4
2.4 (3.3%)
1.8 (2.5%)
18.1 (24.7%)
37.5 (51.1%)
0.957
0.795
Payerne
39758
78.6
-6.2 (-7.8%)
-8.0 (-10.2%)
21.3 (27.1%)
39.2 (49.9%)
0.951
0.814
Carpentras
84383
94.4
1.0 (1.0%)
-0.4 (-0.4%)
15.6 (16.5%)
36.2 (38.3%)
0.975
0.856
Sede Boqer
56695
130.7
-9.2 (-7.0%)
-10.1 (-7.7%)
20.7 (15.8%)
27.2 (20.8%)
0.970
0.943
Tamanrasset
80956
128.4
0.1 (0.1%)
0.1 (0.1%)
23.0 (17.9%)
34.8 (27.1%)
0.958
0.903
Brasilia
36273
110.2
4.6 (4.2%)
6.7 (6.0%)
37.1 (33.7%)
45.7 (41.5%)
0.881
0.807
Sao Martinho da Serra
44186
104.3
-1.4 (-1.4%)
-3.2 (-3.1%)
24.7 (23.7%)
51.9 (49.8%)
0.949
0.749