| | |
| --- | --- |
| research & TRAinings | Last update: Aug. 2017 |
Yearly solar training - On-going research projects - Completed projects
FREE TRAINING in SOLAR RADIATION - each year in January
Session 6 - Jan. 2018
Please contact us (support-sales(-at-)soda-is.com) to participate to our next training on 15th - 19th January 2018. Take a look to the 6th session program.
Please find more information on the training solar page
Session 5 - 18-19-20 Jan. 2017
33 Attendees

We would like to thank all attendees for their participation.

This solar training was advertize on the Copernicus and on the Côte d'Azur Ecobiz websites.
Session 4 - Jan. 2016
Session 3 - Jan. 2015
The third edition of this training which occurred in Jan. 2015 was a success! 35 attendees from the European Union, Turkey, Morocco, Algeria and even from Brazil participated to this new version of the training. They appreciated the new format of presentation via the eyes of the fictional character Paul. Participants also enjoyed to have the opportunity to discuss with a banker in charge of the structured financing of large PV projects. Program >>
Session 2 - Jan 2014
| | | |
| --- | --- | --- |
| | | 31 attendees |
Session 1 - Jan 2013
18 attendees

The first session of the training as been organized within the framework of the European project ENDORSE (2011-2013).

One of the lessons learnt in the first phase of this project is that the complexity of the developed services was a significant barrier for adoption. ARMINES decided to propose a free training in solar radiation during which a workshop has been organized to present the "Typical Meteorological Year generation" and the "Atlas generation" services.

This event was the opportunity to pilote the questionnaires for the testing phase of the services by the extended panel of users (Apr. 2013) and the exploration of the market (Aug. 2013).
On-going projects
CAMS

Spectral irradiances
Capability:
Bibliography:
Alexandr Aculinin, Colette Brogniez, Marc Bengulescu, Didier Gillotay, Frédérique Auriol, et al.. Assessment of Several Empirical Relationships for Deriving Daily Means of UV-A Irradiance from Meteosat-Based Estimates of the Total Irradiance. Remote Sensing, MDPI, 2016, 8 (7), pp.537.
Blanc Ph., Gschwind B., Lefèvre M., Wald L., 2011. "The HelioClim project: Surface solar irradiance data for climate applications" Remote Sensing, 2011, 3, 343-361. doi:10.3390/rs3020343
KATO, S., ACKERMAN, T., MATHER, J., CLOTHIAUX, E., 1999: The k-distribution method and correlated-k approximation for shortwave radiative transfer model. - Journal of Quantitative Spectroscopy and Radiative Transfer 62, 109-121. DOI: 10.1016/S0022-4073(98)00075-2.
Wald, L. Elements on the Computation of UV Maps in the Eurosun Database. Internal Report. 2012.
Available online: http://hal-mines-paristech.archives-ouvertes.fr/hal-00788420/document (accessed on 30 May 2016).
William Wandji Nyamsi, Bella Espinar, Philippe Blanc, Lucien Wald. Estimating the pho-
tosynthetically active radiation under clear skies by means of a new approach. Advances in
Science and Research, Copernicus Publications, 2015, 12, pp.5 – 10
William Wandji Nyamsi. Vers une méthode automatique d'estimation de la distribution spectrale du rayonnement solaire. Cas du ciel clair. : Applications à la lumière du jour, photosynthèse et ultraviolet. Ecole Nationale Supérieure des Mines de Paris, 2015. Français
Completed projects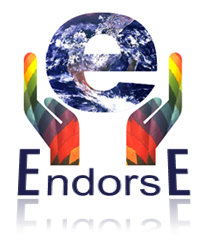 Outcomes of the EU-funded ENDORSE projects 2011 - 2013

Overview of the Provence-Alpes-Côte-d'Azur solar atlas project.