Data for the current day:

HelioClim-3 version 4 real-time and short-term forecast service

Last update: Nov. 2016
Principle - Access - Validation
Principle
Operational since March 2015
Access: automatic-only
Time steps: all the 15 minute and hourly data of the current day "D"
database: HelioClim-3v4 radiation values in real time (H-15 min) and short-term forecasts using a model of persistence until end of the current day. NB: Version 5 can not be available in real time since the data are only available at "D-2".

News mi-March 2016: the service starts as soon as the sun elevation is above 2° (instead of originally 12°). The advantage is to deliver a data from sunrise onwards.
Methodology: The principle of the HC3v4 real-time and short-term forecast service is the persistence of the clear-sky index Kc, defined as the ratio of the GHI by the GHI in clear-sky conditions. Figure 1 illustrates this principle by giving an example of 15 min slots available until 11:25 AM (Figure 1 a)) for a given day d. The last slot available gives half-cloudy half-sunny weather; the main assumption of the Kc persistence states that the same type of weather will be available until the end of the current day, modulated by the sun position (Figure 1 b). Finally, a new MSG image is acquired, and finally, the weather is nicer than planned 15 min ago. The prevision is consequently adjusted (Figure 1 c)). Every 15 min, the service provides the data until the end of the day, with estimates based on all the slots available until the current instant, and forecasts based on local persistence afterwards.
Figure 1: Illustration of the principle of the HC3v4 real-time and short-term forecast service

NB: We remind that the last image acquired by our system is 20:45 UT. As a consequence, after that time, the service in real time delivers the same outputs as the standard service at d-1, and the values are not updated anymore.
Access
Via the SoDa website (for free)
Automatic (for pay)
On Windows, you have first to download the executable wget.exe in a directory. In the same directory, create a .bat file with the following wget command. On Unix, wget is a standard tool on Unix, so just create a .sh file with the following wget command.
Request (Windows):
wget -O output.csv --header="soda-user: your_login" --header="soda-passwd: your_password" ...
"http://server/pub/hc3v4_forecast.php?geopoint=latitude,longitude&elevation=altitude ...
&firstday=yyyy-mm-dd&lastday=yyyy-mm-dd&duration=time_step&time=time_reference&slope=tilt_of_panels ...
&azimuth=az_of_panels&albedo=ground_albedo&horizon=boolean_horizon&soda-user=your_login"
Inputs:
HelioClim version is "4"

latitude

and

longitude

: in degrees, with at least 3 digits after comma, e.g. "geopoint=45.563,7.25"

altitude

: in meters. Set "elevation=-999" to let SoDa get the elevation from Nasa SRTM database

yyyy-mm-dd

: the firstday and lastday MUST be identical and equal the date of the current day

time_step

: "15" (minutes), "h" (hourly), "d" (daily), "m" (monthly)

time_reference

: "TU" (universal time)

tilt_of_panels

: from "0" (horizontal) to "90", and "-999" (2D tracking)

az_of_panels

: from "0" (North), 90° (East), 180° (South) to 270° (West), and "-999" (2D tracking)

ground_albedo

: from "0.0" to "1.0". A usual inland value is "0.2"

boolean_horizon

: takes into account "1" or not "0" the far horizon. If not set, default value is "0".
Outputs:
Compared to the output column content available in the standard HelioClim-3 services, two points differ:
the header is by default available
a column of code is available before the last column of Top of Atmosphere irradiation values:
Code: 0: no data; 1: sun below horizon; 2: satellite assessment; 5: interpolation in time; 6: forecast
NB: For the SoDa Customers who already exploit the output format of hc3v4_request.php, it is possible to get back to this format by adding the following parameters "rely=0&header=0"
Error messages
ERROR -1: Incorrect tilted plane parameter
ERROR -2: Cannot open file
ERROR -3: Cannot write to file
ERROR -4: Cannot read file
ERROR -5: Not enough memory
ERROR -6: Cannot access remote data
ERROR -7: Helioclim service is corrupted
ERROR -8: Unregistered IP address
ERROR -9: Incorrect location parameter
ERROR -10: Incorrect time step parameter
ERROR -11: Incorrect date parameter
ERROR -12: Incorrect horizon parameter
ERROR -13: Incorrect elevation parameter
ERROR -14: Incorrect stations file
ERROR -15: Subprogram failed with no error message
ERROR -16: Incorrect calibration parameter
ERROR -17: Incorrect user/password parameters
ERROR -18: Incorrect albedo parameter
ERROR -19: Incorrect time reference parameter
ERROR -21: Incorrect rely parameter
ERROR -22: Incorrect header parameter
ERROR -23: HC3 database is not updated
ERROR -24: This service is out the scope of your SoDa subscription
ERROR 1: No data available with these input parameters
(generic message if the error is unknown)
Validation
The HelioClim-3 version 4 radiation values in real time and forecasts until the end of the current day -D- are compared to the BSRN measurements following the protocol of validation described here on SoDa. The 1 min BSRN station measurements are preliminarily qualified using the quality check procedure available here.
Figure 2: locations of the BSRN stations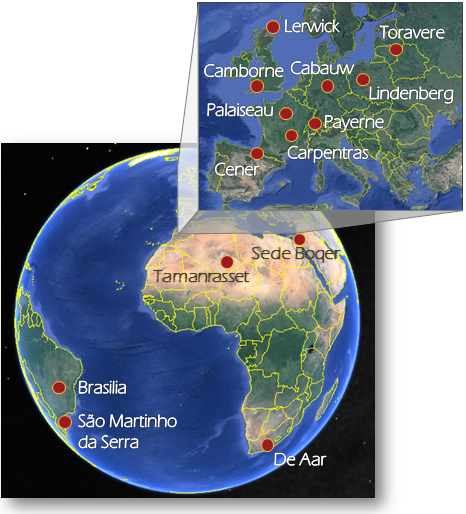 Please find below the validation results for the Global Horizontal component (GHI) for different forecast horizons: 15 min ahead, 30 min ahead, 1 hour ahead, 2 hours ahead, 4 hours ahead, and 6 hours ahead. These validation results are available for the monthly, daily, hourly and 15 min time steps.
Quality assessment results of GHI 15 min ahead persistence forecast
HelioClim-3 v4 persistence -- GHI Quality assessment results vs. the BSRN stations
MONTHLY SUM OF 15 MIN IRRADIATION
Station
Number of values
Mean
- BSRN -
(kWh/m²)
Bias
(kWh/m2)
(relative in %)
RMSE
(kWh/m2)
(relative in %)
Correl. coeff.
Lerwick
29
81.2
2.0 (2.5%)
7.2 (8.8%)
0.995
Toravere
104
83.4
-2.1 (-2.6%)
7.7 (9.2%)
0.989
Lindenberg
37
90.0
-4.3 (-4.8%)
6.5 (7.2%)
0.997
Cabauw
112
87.9
-3.6 (-4.1%)
7.5 (8.6%)
0.994
Camborne
41
93.5
-1.2 (-1.3%)
3.4 (3.6%)
0.999
Palaiseau
93
98.1
3.6 (3.6%)
6.2 (6.3%)
0.998
Payerne
88
99.1
-8.1 (-8.2%)
10.1 (10.2%)
0.995
Carpentras
120
128.7
1.6 (1.2%)
4.4 (3.4%)
0.998
Cener
44
115.7
2.7 (2.4%)
4.4 (3.8%)
0.998
Sede Boqer
100
169.1
-11.3 (-6.7%)
13.3 (7.9%)
0.994
Tamanrasset
124
174.5
1.2 (0.7%)
8.1 (4.7%)
0.980
Brasilia
65
147.5
7.1 (4.8%)
9.9 (6.7%)
0.972
Sao Martinho da Serra
72
143.7
-0.3 (-0.2%)
5.4 (3.7%)
0.994
De Aar
11
172.1
-0.0 (-0.0%)
2.0 (1.1%)
0.999
HelioClim-3 v4 persistence -- GHI Quality assessment results vs. the BSRN stations
DAILY SUM OF 15 MIN IRRADIATION
Station
Number of values
Mean
- BSRN -
(Wh/m²)
Bias
(Wh/m2)
(relative in %)
RMSE
(Wh/m2)
(relative in %)
Correl. coeff.
Lerwick
885
2668.1
61.1 (2.3%)
462.5 (17.3%)
0.972
Toravere
2977
2829.8
-70.8 (-2.5%)
437.5 (15.5%)
0.979
Lindenberg
1110
2998.7
-143.9 (-4.8%)
393.7 (13.1%)
0.987
Cabauw
3313
2958.2
-122.3 (-4.1%)
390.7 (13.2%)
0.986
Camborne
1202
3181.3
-41.7 (-1.3%)
323.3 (10.2%)
0.990
Palaiseau
2814
3244.4
116.7 (3.6%)
332.2 (10.2%)
0.991
Payerne
2543
3345.3
-271.0 (-8.1%)
478.5 (14.3%)
0.986
Carpentras
3536
4378.6
52.8 (1.2%)
336.1 (7.7%)
0.991
Cener
1251
3987.1
94.1 (2.4%)
355.5 (8.9%)
0.990
Sede Boqer
2892
5763.5
-386.6 (-6.7%)
536.5 (9.3%)
0.982
Tamanrasset
3483
6001.3
42.0 (0.7%)
570.3 (9.5%)
0.923
Brasilia
1881
5247.4
245.4 (4.7%)
638.6 (12.2%)
0.900
Sao Martinho da Serra
2169
4780.0
-15.3 (-0.3%)
425.1 (8.9%)
0.984
De Aar
330
5724.0
0.4 (0.0%)
409.2 (7.1%)
0.981
HelioClim-3 v4 persistence -- GHI Quality assessment results vs. the BSRN stations
HOURLY SUM OF 15 MIN IRRADIATION
Station
Number of values
Mean
- BSRN -
(Wh/m²)
Bias
(Wh/m2)
(relative in %)
RMSE
(Wh/m2)
(relative in %)
Correl. coeff.
Lerwick
11282
209.0
4.8 (2.3%)
65.8 (31.5%)
0.939
Toravere
35619
226.1
-5.1 (-2.3%)
62.1 (27.5%)
0.955
Lindenberg
13000
255.5
-12.4 (-4.8%)
61.9 (24.2%)
0.963
Cabauw
39110
250.6
-10.5 (-4.2%)
61.1 (24.4%)
0.962
Camborne
14371
265.9
-3.6 (-1.4%)
57.3 (21.5%)
0.970
Palaiseau
33138
275.4
9.7 (3.5%)
55.3 (20.1%)
0.973
Payerne
29016
290.4
-23.2 (-8.0%)
69.1 (23.8%)
0.967
Carpentras
42698
362.3
4.2 (1.2%)
51.0 (14.1%)
0.983
Cener
15144
333.1
7.7 (2.3%)
59.9 (18.0%)
0.976
Sede Boqer
32255
521.2
-34.2 (-6.6%)
67.9 (13.0%)
0.982
Tamanrasset
42197
503.3
3.5 (0.7%)
73.7 (14.6%)
0.975
Brasilia
22762
435.9
20.5 (4.7%)
116.4 (26.7%)
0.931
Sao Martinho da Serra
25941
400.0
-1.3 (-0.3%)
78.5 (19.6%)
0.968
De Aar
3791
496.5
0.1 (0.0%)
59.2 (11.9%)
0.982
HelioClim-3 v4 persistence -- GHI Quality assessment results vs. the BSRN stations
15 MIN IRRADIATION
Station
Number of values
Mean
- BSRN -
(Wh/m²)
Bias
(Wh/m2)
(relative in %)
RMSE
(Wh/m2)
(relative in %)
Correl. coeff.
Lerwick
44674
53.1
1.3 (2.4%)
20.8 (39.2%)
0.908
Toravere
140935
62.0
-1.7 (-2.7%)
21.2 (34.2%)
0.929
Lindenberg
50512
65.9
-3.1 (-4.8%)
21.6 (32.8%)
0.929
Cabauw
151714
64.9
-2.7 (-4.1%)
21.3 (32.8%)
0.929
Camborne
55813
68.7
-0.9 (-1.3%)
19.7 (28.7%)
0.945
Palaiseau
129087
70.9
2.5 (3.6%)
21.0 (29.7%)
0.939
Payerne
114493
76.2
-6.2 (-8.2%)
22.8 (29.9%)
0.944
Carpentras
164106
94.4
1.1 (1.2%)
17.2 (18.2%)
0.969
Cener
57978
87.8
2.1 (2.4%)
21.3 (24.2%)
0.951
Sede Boqer
128436
133.3
-8.8 (-6.6%)
20.3 (15.3%)
0.971
Tamanrasset
162628
133.0
0.9 (0.7%)
23.6 (17.7%)
0.958
Brasilia
87218
115.1
5.5 (4.8%)
38.5 (33.4%)
0.879
Sao Martinho da Serra
99160
105.2
-0.3 (-0.3%)
26.7 (25.4%)
0.942
De Aar
14635
129.3
-0.0 (-0.0%)
21.2 (16.4%)
0.962
Quality assessment results of GHI 30 min ahead persistence forecast
HelioClim-3 v4 persistence -- GHI Quality assessment results vs. the BSRN stations
MONTHLY SUM OF 15 MIN IRRADIATION
Station
Number of values
Mean
- BSRN -
(kWh/m²)
Bias
(kWh/m2)
(relative in %)
RMSE
(kWh/m2)
(relative in %)
Correl. coeff.
Lerwick
29
81.2
2.0 (2.4%)
7.1 (8.7%)
0.995
Toravere
104
83.4
-2.1 (-2.5%)
7.6 (9.1%)
0.990
Lindenberg
37
89.9
-4.2 (-4.6%)
6.4 (7.1%)
0.997
Cabauw
112
87.9
-3.6 (-4.1%)
7.5 (8.6%)
0.994
Camborne
41
93.5
-1.2 (-1.3%)
3.3 (3.6%)
0.999
Palaiseau
93
98.1
3.6 (3.7%)
6.2 (6.3%)
0.998
Payerne
88
99.0
-7.9 (-8.0%)
9.9 (10.0%)
0.995
Carpentras
120
128.7
1.6 (1.2%)
4.5 (3.5%)
0.998
Cener
44
115.6
2.5 (2.2%)
4.3 (3.7%)
0.998
Sede Boqer
100
169.0
-11.5 (-6.8%)
13.5 (8.0%)
0.994
Tamanrasset
124
174.4
1.3 (0.8%)
8.3 (4.8%)
0.979
Brasilia
65
147.4
7.4 (5.0%)
10.2 (6.9%)
0.970
Sao Martinho da Serra
72
143.6
-0.2 (-0.2%)
5.7 (3.9%)
0.994
De Aar
11
172.0
-0.0 (-0.0%)
1.9 (1.1%)
0.999
HelioClim-3 v4 persistence -- GHI Quality assessment results vs. the BSRN stations
DAILY SUM OF 15 MIN IRRADIATION
Station
Number of values
Mean
- BSRN -
(Wh/m²)
Bias
(Wh/m2)
(relative in %)
RMSE
(Wh/m2)
(relative in %)
Correl. coeff.
Lerwick
885
2667.7
58.7 (2.2%)
462.8 (17.4%)
0.972
Toravere
2966
2831.9
-69.3 (-2.4%)
436.6 (15.4%)
0.979
Lindenberg
1110
2997.7
-140.0 (-4.7%)
394.6 (13.2%)
0.986
Cabauw
3312
2957.6
-122.6 (-4.1%)
395.8 (13.4%)
0.986
Camborne
1202
3180.5
-42.5 (-1.3%)
330.5 (10.4%)
0.990
Palaiseau
2814
3243.5
119.2 (3.7%)
336.3 (10.4%)
0.991
Payerne
2538
3344.1
-267.3 (-8.0%)
480.1 (14.4%)
0.986
Carpentras
3536
4377.4
52.9 (1.2%)
340.2 (7.8%)
0.990
Cener
1250
3985.9
88.5 (2.2%)
359.0 (9.0%)
0.990
Sede Boqer
2877
5773.8
-393.6 (-6.8%)
541.6 (9.4%)
0.982
Tamanrasset
3444
6024.3
46.4 (0.8%)
580.5 (9.6%)
0.919
Brasilia
1876
5247.2
256.3 (4.9%)
645.8 (12.3%)
0.898
Sao Martinho da Serra
2167
4778.4
-12.2 (-0.3%)
441.5 (9.2%)
0.983
De Aar
330
5722.0
0.4 (0.0%)
411.3 (7.2%)
0.981
HelioClim-3 v4 persistence -- GHI Quality assessment results vs. the BSRN stations
HOURLY SUM OF 15 MIN IRRADIATION
Station
Number of values
Mean
- BSRN -
(Wh/m²)
Bias
(Wh/m2)
(relative in %)
RMSE
(Wh/m2)
(relative in %)
Correl. coeff.
Lerwick
11236
209.8
4.6 (2.2%)
70.0 (33.4%)
0.931
Toravere
35456
227.1
-5.1 (-2.2%)
65.1 (28.7%)
0.951
Lindenberg
12821
258.8
-12.2 (-4.7%)
68.5 (26.5%)
0.954
Cabauw
38608
253.7
-10.6 (-4.2%)
68.2 (26.9%)
0.953
Camborne
14219
268.6
-3.8 (-1.4%)
64.3 (24.0%)
0.962
Palaiseau
32734
278.6
10.0 (3.6%)
63.8 (22.9%)
0.964
Payerne
28373
296.6
-23.3 (-7.9%)
74.8 (25.2%)
0.960
Carpentras
41929
368.6
4.3 (1.2%)
57.9 (15.7%)
0.978
Cener
14818
340.0
7.4 (2.2%)
66.9 (19.7%)
0.969
Sede Boqer
30613
548.2
-36.5 (-6.7%)
72.4 (13.2%)
0.977
Tamanrasset
40469
523.6
3.9 (0.8%)
79.9 (15.3%)
0.969
Brasilia
21588
458.4
22.6 (4.9%)
123.2 (26.9%)
0.918
Sao Martinho da Serra
25153
411.8
-1.1 (-0.3%)
87.2 (21.2%)
0.960
De Aar
3713
506.5
0.1 (0.0%)
66.2 (13.1%)
0.977
HelioClim-3 v4 persistence -- GHI Quality assessment results vs. the BSRN stations
15 MIN IRRADIATION
Station
Number of values
Mean
- BSRN -
(Wh/m²)
Bias
(Wh/m2)
(relative in %)
RMSE
(Wh/m2)
(relative in %)
Correl. coeff.
Lerwick
44587
53.2
1.2 (2.3%)
22.6 (42.6%)
0.890
Toravere
140496
62.2
-1.6 (-2.6%)
22.5 (36.2%)
0.920
Lindenberg
50239
66.2
-3.1 (-4.6%)
24.1 (36.4%)
0.911
Cabauw
151005
65.2
-2.7 (-4.1%)
23.9 (36.6%)
0.910
Camborne
55592
68.9
-0.9 (-1.3%)
22.4 (32.5%)
0.929
Palaiseau
128534
71.2
2.6 (3.7%)
24.0 (33.8%)
0.920
Payerne
113485
76.8
-6.2 (-8.0%)
25.0 (32.6%)
0.930
Carpentras
163070
95.0
1.2 (1.2%)
19.6 (20.6%)
0.960
Cener
57526
88.4
1.9 (2.2%)
23.7 (26.9%)
0.938
Sede Boqer
126053
135.7
-9.2 (-6.7%)
21.6 (15.9%)
0.965
Tamanrasset
160096
135.1
1.0 (0.8%)
25.3 (18.8%)
0.950
Brasilia
85821
116.9
5.8 (5.0%)
39.7 (33.9%)
0.869
Sao Martinho da Serra
98082
106.3
-0.2 (-0.2%)
28.9 (27.2%)
0.931
De Aar
14518
130.3
-0.0 (-0.0%)
23.8 (18.2%)
0.952
Quality assessment results of GHI 1 hour ahead persistence forecast
HelioClim-3 v4 persistence -- GHI Quality assessment results vs. the BSRN stations
MONTHLY SUM OF 15 MIN IRRADIATION
Station
Number of values
Mean
- BSRN -
(kWh/m²)
Bias
(kWh/m2)
(relative in %)
RMSE
(kWh/m2)
(relative in %)
Correl. coeff.
Lerwick
29
81.0
1.7 (2.1%)
6.7 (8.3%)
0.995
Toravere
104
83.2
-2.3 (-2.7%)
7.5 (9.0%)
0.990
Lindenberg
37
89.6
-4.1 (-4.6%)
6.2 (7.0%)
0.997
Cabauw
112
87.5
-3.7 (-4.3%)
7.6 (8.7%)
0.994
Camborne
41
93.2
-1.5 (-1.6%)
3.3 (3.6%)
0.999
Palaiseau
93
97.7
3.6 (3.7%)
6.1 (6.2%)
0.998
Payerne
88
98.6
-7.8 (-8.0%)
9.8 (9.9%)
0.996
Carpentras
120
128.2
1.3 (1.0%)
4.4 (3.4%)
0.998
Cener
44
115.1
2.0 (1.7%)
4.2 (3.6%)
0.998
Sede Boqer
99
169.2
-12.5 (-7.4%)
14.5 (8.6%)
0.994
Tamanrasset
123
174.1
1.0 (0.6%)
8.5 (4.9%)
0.978
Brasilia
64
147.0
7.5 (5.1%)
10.5 (7.1%)
0.967
Sao Martinho da Serra
72
142.9
-0.5 (-0.3%)
6.2 (4.4%)
0.993
De Aar
11
171.4
-0.4 (-0.2%)
2.0 (1.2%)
0.999
HelioClim-3 v4 persistence -- GHI Quality assessment results vs. the BSRN stations
DAILY SUM OF 15 MIN IRRADIATION
Station
Number of values
Mean
- BSRN -
(Wh/m²)
Bias
(Wh/m2)
(relative in %)
RMSE
(Wh/m2)
(relative in %)
Correl. coeff.
Lerwick
885
2661.6
49.9 (1.9%)
468.0 (17.6%)
0.971
Toravere
2925
2832.7
-72.7 (-2.6%)
442.3 (15.6%)
0.979
Lindenberg
1107
2992.7
-137.5 (-4.6%)
405.6 (13.6%)
0.985
Cabauw
3304
2949.0
-126.9 (-4.3%)
414.0 (14.0%)
0.984
Camborne
1202
3170.0
-49.8 (-1.6%)
353.9 (11.2%)
0.988
Palaiseau
2814
3230.9
118.7 (3.7%)
350.3 (10.8%)
0.990
Payerne
2496
3356.4
-265.8 (-7.9%)
493.5 (14.7%)
0.985
Carpentras
3536
4359.3
43.1 (1.0%)
354.7 (8.1%)
0.990
Cener
1241
3986.4
69.1 (1.7%)
371.8 (9.3%)
0.988
Sede Boqer
2821
5797.3
-430.1 (-7.4%)
574.5 (9.9%)
0.981
Tamanrasset
3353
6045.2
41.7 (0.7%)
599.7 (9.9%)
0.910
Brasilia
1853
5229.7
261.2 (5.0%)
661.6 (12.7%)
0.890
Sao Martinho da Serra
2160
4760.1
-22.0 (-0.5%)
488.1 (10.3%)
0.979
De Aar
330
5700.8
-11.9 (-0.2%)
421.0 (7.4%)
0.979
HelioClim-3 v4 persistence -- GHI Quality assessment results vs. the BSRN stations
HOURLY SUM OF 15 MIN IRRADIATION
Station
Number of values
Mean
- BSRN -
(Wh/m²)
Bias
(Wh/m2)
(relative in %)
RMSE
(Wh/m2)
(relative in %)
Correl. coeff.
Lerwick
10852
216.4
4.1 (1.9%)
82.2 (38.0%)
0.904
Toravere
33554
238.7
-5.6 (-2.3%)
76.7 (32.1%)
0.932
Lindenberg
12168
271.0
-12.7 (-4.7%)
85.0 (31.4%)
0.928
Cabauw
36623
265.7
-11.6 (-4.4%)
85.6 (32.2%)
0.924
Camborne
13567
280.0
-4.6 (-1.7%)
81.9 (29.2%)
0.938
Palaiseau
30990
292.3
10.4 (3.6%)
83.0 (28.4%)
0.937
Payerne
27075
308.8
-23.9 (-7.7%)
90.0 (29.1%)
0.940
Carpentras
39552
388.2
3.6 (0.9%)
74.7 (19.2%)
0.962
Cener
13955
358.5
5.8 (1.6%)
83.3 (23.2%)
0.951
Sede Boqer
29148
571.7
-41.4 (-7.2%)
85.8 (15.0%)
0.964
Tamanrasset
38242
549.5
3.3 (0.6%)
93.3 (17.0%)
0.954
Brasilia
20462
478.7
24.3 (5.1%)
137.9 (28.8%)
0.892
Sao Martinho da Serra
23937
429.4
-1.9 (-0.4%)
105.7 (24.6%)
0.939
De Aar
3570
524.3
-1.1 (-0.2%)
83.3 (15.9%)
0.962
HelioClim-3 v4 persistence -- GHI Quality assessment results vs. the BSRN stations
15 MIN IRRADIATION
Station
Number of values
Mean
- BSRN -
(Wh/m²)
Bias
(Wh/m2)
(relative in %)
RMSE
(Wh/m2)
(relative in %)
Correl. coeff.
Lerwick
43609
54.2
1.1 (2.0%)
25.5 (46.9%)
0.860
Toravere
136252
63.9
-1.8 (-2.8%)
25.5 (39.9%)
0.897
Lindenberg
48436
68.4
-3.1 (-4.6%)
27.5 (40.3%)
0.884
Cabauw
145843
67.2
-2.9 (-4.3%)
27.5 (40.9%)
0.879
Camborne
53778
71.0
-1.1 (-1.6%)
26.1 (36.8%)
0.902
Palaiseau
124002
73.5
2.7 (3.7%)
27.7 (37.7%)
0.892
Payerne
109266
79.4
-6.3 (-8.0%)
28.7 (36.2%)
0.905
Carpentras
156704
98.4
1.0 (1.0%)
23.5 (23.8%)
0.940
Cener
55275
91.6
1.6 (1.7%)
27.1 (29.5%)
0.918
Sede Boqer
120994
140.7
-10.3 (-7.3%)
25.0 (17.7%)
0.950
Tamanrasset
152803
140.7
0.9 (0.6%)
28.6 (20.3%)
0.932
Brasilia
82044
121.4
6.2 (5.1%)
43.1 (35.5%)
0.838
Sao Martinho da Serra
94284
110.1
-0.4 (-0.4%)
33.0 (30.0%)
0.908
De Aar
14075
133.9
-0.3 (-0.2%)
27.2 (20.3%)
0.934
Quality assessment results of GHI 2 hour ahead persistence forecast
HelioClim-3 v4 persistence -- GHI Quality assessment results vs. the BSRN stations
MONTHLY SUM OF 15 MIN IRRADIATION
Station
Number of values
Mean
- BSRN -
(kWh/m²)
Bias
(kWh/m2)
(relative in %)
RMSE
(kWh/m2)
(relative in %)
Correl. coeff.
Lerwick
29
79.6
0.8 (1.0%)
5.7 (7.2%)
0.995
Toravere
104
81.6
-3.0 (-3.7%)
7.4 (9.1%)
0.991
Lindenberg
37
87.3
-4.3 (-4.9%)
6.3 (7.2%)
0.997
Cabauw
111
86.0
-4.3 (-5.0%)
7.9 (9.2%)
0.995
Camborne
40
92.9
-2.3 (-2.5%)
3.9 (4.1%)
0.998
Palaiseau
93
95.1
3.1 (3.3%)
5.5 (5.8%)
0.998
Payerne
88
95.8
-8.1 (-8.4%)
9.8 (10.3%)
0.996
Carpentras
120
124.5
0.1 (0.0%)
4.1 (3.3%)
0.998
Cener
44
111.8
0.2 (0.1%)
4.0 (3.6%)
0.998
Sede Boqer
98
165.6
-15.8 (-9.6%)
17.9 (10.8%)
0.994
Tamanrasset
121
168.6
-0.1 (-0.1%)
8.7 (5.1%)
0.976
Brasilia
60
145.2
6.5 (4.5%)
10.1 (7.0%)
0.946
Sao Martinho da Serra
72
138.1
-2.0 (-1.5%)
7.5 (5.4%)
0.991
De Aar
11
165.6
-1.8 (-1.1%)
2.8 (1.7%)
0.999
HelioClim-3 v4 persistence -- GHI Quality assessment results vs. the BSRN stations
DAILY SUM OF 15 MIN IRRADIATION
Station
Number of values
Mean
- BSRN -
(Wh/m²)
Bias
(Wh/m2)
(relative in %)
RMSE
(Wh/m2)
(relative in %)
Correl. coeff.
Lerwick
869
2658.9
15.9 (0.6%)
497.9 (18.7%)
0.966
Toravere
2729
2822.4
-96.8 (-3.4%)
475.8 (16.9%)
0.977
Lindenberg
1103
2927.0
-143.8 (-4.9%)
452.5 (15.5%)
0.981
Cabauw
3277
2894.9
-145.7 (-5.0%)
473.3 (16.4%)
0.979
Camborne
1195
3111.5
-79.9 (-2.6%)
431.0 (13.9%)
0.982
Palaiseau
2798
3157.7
102.1 (3.2%)
400.3 (12.7%)
0.985
Payerne
2350
3340.5
-277.1 (-8.3%)
545.7 (16.3%)
0.980
Carpentras
3521
4248.6
-0.3 (-0.0%)
402.4 (9.5%)
0.986
Cener
1211
3932.3
6.4 (0.2%)
423.7 (10.8%)
0.984
Sede Boqer
2727
5736.0
-548.5 (-9.6%)
700.5 (12.2%)
0.975
Tamanrasset
3169
5914.8
9.1 (0.2%)
623.4 (10.5%)
0.895
Brasilia
1814
5065.9
220.4 (4.4%)
702.9 (13.9%)
0.857
Sao Martinho da Serra
2143
4623.9
-78.1 (-1.7%)
615.6 (13.3%)
0.965
De Aar
326
5523.2
-58.1 (-1.1%)
463.9 (8.4%)
0.974
HelioClim-3 v4 persistence -- GHI Quality assessment results vs. the BSRN stations
HOURLY SUM OF 15 MIN IRRADIATION
Station
Number of values
Mean
- BSRN -
(Wh/m²)
Bias
(Wh/m2)
(relative in %)
RMSE
(Wh/m2)
(relative in %)
Correl. coeff.
Lerwick
10027
229.2
1.7 (0.8%)
102.6 (44.8%)
0.851
Toravere
30769
253.8
-7.9 (-3.1%)
98.4 (38.8%)
0.890
Lindenberg
11096
287.9
-14.3 (-5.0%)
108.9 (37.8%)
0.886
Cabauw
33411
282.3
-14.4 (-5.1%)
109.6 (38.8%)
0.877
Camborne
12410
297.7
-8.0 (-2.7%)
107.6 (36.1%)
0.893
Palaiseau
28257
310.4
9.7 (3.1%)
107.7 (34.7%)
0.896
Payerne
24511
328.9
-26.7 (-8.1%)
114.0 (34.7%)
0.903
Carpentras
36119
410.8
-0.1 (-0.0%)
99.0 (24.1%)
0.933
Cener
12748
379.3
0.0 (0.0%)
105.4 (27.8%)
0.921
Sede Boqer
27096
597.3
-55.7 (-9.3%)
120.3 (20.1%)
0.924
Tamanrasset
34571
580.2
0.1 (0.0%)
115.5 (19.9%)
0.928
Brasilia
18651
502.3
23.3 (4.6%)
166.6 (33.2%)
0.836
Sao Martinho da Serra
21887
451.5
-6.9 (-1.5%)
137.2 (30.4%)
0.898
De Aar
3255
553.0
-5.7 (-1.0%)
109.4 (19.8%)
0.933
HelioClim-3 v4 persistence -- GHI Quality assessment results vs. the BSRN stations
15 MIN IRRADIATION
Station
Number of values
Mean
- BSRN -
(Wh/m²)
Bias
(Wh/m2)
(relative in %)
RMSE
(Wh/m2)
(relative in %)
Correl. coeff.
Lerwick
40347
57.6
0.5 (0.8%)
29.9 (52.0%)
0.807
Toravere
124966
68.4
-2.6 (-3.7%)
30.7 (44.9%)
0.852
Lindenberg
44159
73.2
-3.6 (-4.9%)
32.7 (44.7%)
0.840
Cabauw
132988
71.8
-3.6 (-5.0%)
32.7 (45.5%)
0.831
Camborne
49116
76.0
-1.9 (-2.6%)
31.8 (41.8%)
0.855
Palaiseau
113060
78.5
2.6 (3.3%)
32.8 (41.8%)
0.850
Payerne
99064
85.1
-7.2 (-8.4%)
34.2 (40.2%)
0.865
Carpentras
142912
104.8
0.0 (0.0%)
28.8 (27.5%)
0.908
Cener
50285
97.8
0.1 (0.1%)
32.0 (32.7%)
0.883
Sede Boqer
112025
148.2
-14.1 (-9.5%)
33.2 (22.4%)
0.906
Tamanrasset
138086
149.6
-0.0 (-0.0%)
34.0 (22.7%)
0.899
Brasilia
74643
128.4
5.9 (4.6%)
50.0 (39.0%)
0.773
Sao Martinho da Serra
86034
116.6
-1.8 (-1.5%)
40.3 (34.6%)
0.861
De Aar
12827
142.0
-1.5 (-1.1%)
33.0 (23.2%)
0.899
Quality assessment results of GHI 4 hour ahead persistence forecast
HelioClim-3 v4 persistence -- GHI Quality assessment results vs. the BSRN stations
MONTHLY SUM OF 15 MIN IRRADIATION
Station
Number of values
Mean
- BSRN -
(kWh/m²)
Bias
(kWh/m2)
(relative in %)
RMSE
(kWh/m2)
(relative in %)
Correl. coeff.
Lerwick
28
73.6
-1.3 (-1.7%)
4.6 (6.2%)
0.995
Toravere
92
80.5
-5.1 (-6.4%)
8.2 (10.1%)
0.991
Lindenberg
34
81.0
-4.2 (-5.1%)
6.6 (8.2%)
0.996
Cabauw
100
81.2
-5.0 (-6.2%)
8.2 (10.1%)
0.995
Camborne
36
88.6
-4.0 (-4.5%)
6.1 (6.9%)
0.997
Palaiseau
92
82.3
2.5 (3.0%)
4.8 (5.8%)
0.998
Payerne
77
89.1
-8.5 (-9.5%)
10.0 (11.2%)
0.996
Carpentras
118
106.8
-2.1 (-2.0%)
4.3 (4.0%)
0.998
Cener
39
99.4
-2.7 (-2.7%)
5.7 (5.7%)
0.997
Sede Boqer
91
143.0
-20.9 (-14.6%)
23.4 (16.4%)
0.993
Tamanrasset
106
142.9
-1.9 (-1.3%)
7.9 (5.5%)
0.979
Brasilia
55
121.6
3.2 (2.7%)
8.5 (7.0%)
0.878
Sao Martinho da Serra
71
115.0
-4.6 (-4.0%)
9.4 (8.2%)
0.987
De Aar
11
136.6
-3.9 (-2.9%)
4.9 (3.6%)
0.999
HelioClim-3 v4 persistence -- GHI Quality assessment results vs. the BSRN stations
DAILY SUM OF 15 MIN IRRADIATION
Station
Number of values
Mean
- BSRN -
(Wh/m²)
Bias
(Wh/m2)
(relative in %)
RMSE
(Wh/m2)
(relative in %)
Correl. coeff.
Lerwick
596
3182.0
-49.7 (-1.6%)
720.1 (22.6%)
0.906
Toravere
1232
3830.1
-206.0 (-5.4%)
684.7 (17.9%)
0.946
Lindenberg
638
3831.1
-186.2 (-4.9%)
730.1 (19.1%)
0.915
Cabauw
1919
3750.1
-272.4 (-7.3%)
757.3 (20.2%)
0.910
Camborne
725
3919.2
-189.1 (-4.8%)
759.6 (19.4%)
0.918
Palaiseau
1682
3955.1
113.2 (2.9%)
666.7 (16.9%)
0.923
Payerne
1148
4429.8
-405.4 (-9.2%)
819.9 (18.5%)
0.923
Carpentras
2229
4890.0
-98.0 (-2.0%)
606.4 (12.4%)
0.940
Cener
729
4611.5
-165.9 (-3.6%)
643.3 (13.9%)
0.932
Sede Boqer
1158
6086.9
-914.3 (-15.0%)
1077.4 (17.7%)
0.877
Tamanrasset
2178
5246.6
-54.9 (-1.0%)
619.9 (11.8%)
0.862
Brasilia
1487
4261.8
99.6 (2.3%)
809.3 (19.0%)
0.705
Sao Martinho da Serra
1344
4777.8
-207.5 (-4.3%)
922.3 (19.3%)
0.874
De Aar
188
5501.1
-117.0 (-2.1%)
626.2 (11.4%)
0.932
HelioClim-3 v4 persistence -- GHI Quality assessment results vs. the BSRN stations
HOURLY SUM OF 15 MIN IRRADIATION
Station
Number of values
Mean
- BSRN -
(Wh/m²)
Bias
(Wh/m2)
(relative in %)
RMSE
(Wh/m2)
(relative in %)
Correl. coeff.
Lerwick
8265
247.0
-4.5 (-1.8%)
133.2 (53.9%)
0.764
Toravere
24995
271.3
-13.3 (-4.9%)
132.5 (48.8%)
0.816
Lindenberg
8883
304.2
-15.4 (-5.1%)
140.9 (46.3%)
0.825
Cabauw
26785
299.4
-18.2 (-6.1%)
140.0 (46.8%)
0.818
Camborne
10016
317.5
-15.1 (-4.8%)
139.7 (44.0%)
0.837
Palaiseau
22653
326.6
9.3 (2.8%)
137.2 (42.0%)
0.846
Payerne
19567
345.0
-31.3 (-9.1%)
144.9 (42.0%)
0.857
Carpentras
29067
427.4
-8.5 (-2.0%)
128.5 (30.1%)
0.898
Cener
10253
393.3
-12.1 (-3.1%)
132.5 (33.7%)
0.887
Sede Boqer
21475
616.2
-87.4 (-14.2%)
187.4 (30.4%)
0.829
Tamanrasset
27336
580.6
-1.8 (-0.3%)
146.4 (25.2%)
0.901
Brasilia
14946
498.6
18.5 (3.7%)
197.6 (39.6%)
0.779
Sao Martinho da Serra
17580
457.8
-18.2 (-4.0%)
178.2 (38.9%)
0.840
De Aar
2604
563.9
-15.9 (-2.8%)
141.7 (25.1%)
0.899
HelioClim-3 v4 persistence -- GHI Quality assessment results vs. the BSRN stations
15 MIN IRRADIATION
Station
Number of values
Mean
- BSRN -
(Wh/m²)
Bias
(Wh/m2)
(relative in %)
RMSE
(Wh/m2)
(relative in %)
Correl. coeff.
Lerwick
33294
62.6
-1.2 (-1.8%)
37.3 (59.6%)
0.718
Toravere
101624
74.3
-4.6 (-6.1%)
39.8 (53.6%)
0.770
Lindenberg
35311
78.6
-4.0 (-5.1%)
40.5 (51.5%)
0.777
Cabauw
106472
77.3
-4.7 (-6.0%)
40.3 (52.1%)
0.769
Camborne
39540
82.1
-3.8 (-4.6%)
39.7 (48.3%)
0.795
Palaiseau
90662
83.8
2.5 (3.0%)
40.1 (47.8%)
0.797
Payerne
79044
90.8
-8.7 (-9.5%)
42.1 (46.4%)
0.814
Carpentras
114704
110.8
-2.2 (-2.0%)
36.3 (32.7%)
0.868
Cener
40226
103.5
-3.1 (-3.0%)
39.1 (37.8%)
0.842
Sede Boqer
89485
154.9
-22.5 (-14.5%)
50.4 (32.6%)
0.798
Tamanrasset
108992
152.6
-0.8 (-0.5%)
42.4 (27.8%)
0.865
Brasilia
59828
129.9
4.2 (3.3%)
58.4 (44.9%)
0.711
Sao Martinho da Serra
68743
120.7
-5.0 (-4.1%)
51.1 (42.3%)
0.795
De Aar
10228
146.9
-4.2 (-2.9%)
41.6 (28.3%)
0.856
Quality assessment results of GHI 6 hour ahead persistence forecast
HelioClim-3 v4 persistence -- GHI Quality assessment results vs. the BSRN stations
MONTHLY SUM OF 15 MIN IRRADIATION
Station
Number of values
Mean
- BSRN -
(kWh/m²)
Bias
(kWh/m2)
(relative in %)
RMSE
(kWh/m2)
(relative in %)
Correl. coeff.
Lerwick
17
84.6
-3.7 (-4.4%)
6.8 (8.1%)
0.976
Toravere
43
96.9
-8.4 (-8.7%)
10.3 (10.7%)
0.975
Lindenberg
18
95.7
-5.0 (-5.2%)
8.5 (8.9%)
0.970
Cabauw
55
94.3
-7.6 (-8.1%)
10.0 (10.6%)
0.976
Camborne
20
99.9
-6.7 (-6.7%)
9.7 (9.7%)
0.976
Palaiseau
48
98.4
3.2 (3.2%)
5.8 (5.9%)
0.982
Payerne
34
105.6
-10.3 (-9.7%)
11.2 (10.6%)
0.981
Carpentras
57
121.8
-2.9 (-2.3%)
5.0 (4.1%)
0.991
Cener
19
112.5
-5.9 (-5.2%)
8.2 (7.3%)
0.984
Sede Boqer
29
145.4
-30.8 (-21.2%)
31.3 (21.5%)
0.912
Tamanrasset
34
123.7
2.4 (1.9%)
7.1 (5.8%)
0.827
Brasilia
20
88.1
3.0 (3.4%)
8.0 (9.1%)
0.666
Sao Martinho da Serra
34
111.2
-2.3 (-2.1%)
9.3 (8.4%)
0.938
De Aar
5
127.3
-3.4 (-2.7%)
4.6 (3.6%)
0.997
HelioClim-3 v4 persistence -- GHI Quality assessment results vs. the BSRN stations
DAILY SUM OF 15 MIN IRRADIATION
Station
Number of values
Mean
- BSRN -
(Wh/m²)
Bias
(Wh/m2)
(relative in %)
RMSE
(Wh/m2)
(relative in %)
Correl. coeff.
Lerwick
164
4051.1
-285.8 (-7.1%)
1073.3 (26.5%)
0.706
Toravere
163
5524.7
-469.6 (-8.5%)
840.9 (15.2%)
0.838
Lindenberg
65
4946.5
91.1 (1.8%)
921.0 (18.6%)
0.547
Cabauw
109
4994.5
-291.2 (-5.8%)
867.6 (17.4%)
0.740
Camborne
73
5147.7
-498.1 (-9.7%)
1052.9 (20.5%)
0.743
Palaiseau
77
4748.7
33.1 (0.7%)
623.0 (13.1%)
0.862
Payerne
0
NaN
NaN (NaN%)
NaN (NaN%)
NaN
Carpentras
0
NaN
NaN (NaN%)
NaN (NaN%)
NaN
Cener
0
NaN
NaN (NaN%)
NaN (NaN%)
NaN
Sede Boqer
0
NaN
NaN (NaN%)
NaN (NaN%)
NaN
Tamanrasset
0
NaN
NaN (NaN%)
NaN (NaN%)
NaN
Brasilia
0
NaN
NaN (NaN%)
NaN (NaN%)
NaN
Sao Martinho da Serra
0
NaN
NaN (NaN%)
NaN (NaN%)
NaN
De Aar
0
NaN
NaN (NaN%)
NaN (NaN%)
NaN
HelioClim-3 v4 persistence -- GHI Quality assessment results vs. the BSRN stations
HOURLY SUM OF 15 MIN IRRADIATION
Station
Number of values
Mean
- BSRN -
(Wh/m²)
Bias
(Wh/m2)
(relative in %)
RMSE
(Wh/m2)
(relative in %)
Correl. coeff.
Lerwick
6503
246.2
-9.6 (-3.9%)
150.9 (61.3%)
0.712
Toravere
19547
263.7
-17.4 (-6.6%)
149.5 (56.7%)
0.772
Lindenberg
6663
292.0
-14.5 (-5.0%)
153.7 (52.6%)
0.791
Cabauw
20153
291.2
-20.0 (-6.9%)
151.7 (52.1%)
0.791
Camborne
7613
308.9
-19.9 (-6.4%)
155.2 (50.2%)
0.810
Palaiseau
17022
311.4
10.0 (3.2%)
147.1 (47.2%)
0.826
Payerne
14763
323.4
-31.3 (-9.7%)
158.0 (48.9%)
0.831
Carpentras
21989
396.7
-13.3 (-3.4%)
137.0 (34.5%)
0.891
Cener
7709
362.5
-19.6 (-5.4%)
140.0 (38.6%)
0.879
Sede Boqer
15454
559.2
-109.4 (-19.6%)
223.2 (39.9%)
0.781
Tamanrasset
20964
497.4
3.3 (0.7%)
149.7 (30.1%)
0.894
Brasilia
11193
419.2
15.1 (3.6%)
192.0 (45.8%)
0.760
Sao Martinho da Serra
13228
403.9
-23.1 (-5.7%)
184.5 (45.7%)
0.816
De Aar
1944
499.8
-22.5 (-4.5%)
146.7 (29.3%)
0.895
HelioClim-3 v4 persistence -- GHI Quality assessment results vs. the BSRN stations
15 MIN IRRADIATION
Station
Number of values
Mean
- BSRN -
(Wh/m²)
Bias
(Wh/m2)
(relative in %)
RMSE
(Wh/m2)
(relative in %)
Correl. coeff.
Lerwick
26304
63.0
-2.6 (-4.2%)
41.7 (66.1%)
0.669
Toravere
79544
73.6
-6.3 (-8.5%)
45.3 (61.5%)
0.719
Lindenberg
26432
77.0
-3.8 (-5.0%)
44.2 (57.5%)
0.742
Cabauw
79966
76.4
-5.2 (-6.9%)
43.7 (57.2%)
0.742
Camborne
29942
81.3
-5.1 (-6.3%)
43.7 (53.8%)
0.767
Palaiseau
68164
81.4
2.8 (3.4%)
43.0 (52.9%)
0.777
Payerne
59513
87.1
-8.9 (-10.2%)
46.0 (52.8%)
0.787
Carpentras
86407
105.0
-3.4 (-3.3%)
38.9 (37.1%)
0.861
Cener
30034
98.0
-5.1 (-5.2%)
41.4 (42.2%)
0.836
Sede Boqer
65356
143.0
-28.6 (-20.0%)
60.2 (42.1%)
0.747
Tamanrasset
83064
133.4
0.5 (0.4%)
43.9 (32.9%)
0.860
Brasilia
44838
112.0
3.3 (3.0%)
57.8 (51.6%)
0.698
Sao Martinho da Serra
51391
109.4
-6.3 (-5.8%)
53.8 (49.2%)
0.770
De Aar
7584
133.2
-6.0 (-4.5%)
43.6 (32.8%)
0.853