HelioClim-3 version 4 sOLAR SIMILARITY FORECAST service
time series at d+1

Last update: Dec. 2015
In brief - Methodology - Access - Validation
In brief

Operational since July 2015
Access: graphical user interface at http://www.soda-pro.com/web-services/radiation/helioclim-3-forecast and automatic (see below)
Time steps: 1, 5, 10, 15, 30 minutes, hourly and daily
Database: HelioClim-3v4 radiation values provided at d+1.
Spatial coverage: Meteosat Second Generation (-66° to +66° both in latitude and longitude)
Data availability: Please note that the day d should be over to provide the value for d+1. If a request is launched during day which is running, the service of persistence is applied to complete day d values, and use the solar forecast similarity method to generate day d+1 values. As a consequence, as soon as a new 15 min image is collected, this service provides different values for day d+1.
NB: the version 5 can not be available in real time since the input data are only available at d-2.

(click on the image to magnify)
Methodology
The principle of the Solar Forecast Similarity Method algorithm is to search in the HelioClim-3 past irradiance database the closest period to the current day. The closest period is defined by considering the minimum of the square distance. Once the nearest period(s) is(are) determined, the following day(s) is(are) used as a prediction for the day following the current day.
This search for the most suited day could be very time consuming, and a lot of work has been done to reduce this time by a factor up to 50. Different parameters had been adjusted, and the best compromise is given by:
a temporal window of 15 days before and after the date independently of the year
a search in the previous 4 years is considered
the code is searching for the 10 closest days
The days following the 10 selected days in the past are averaged to produce the prediction. With this configuration, the bias is null ; the algorithm outperforms the persistence by 20% and the error is similar to existing methods.
Automatic access
On Windows, you have first to download the executable wget.exe in a directory. In the same directory, create a .bat file with the following wget command. On Unix, wget is a standard tool, so just create a .sh file with the following wget command.
Request:
wget -O output.csv --header="soda-user: your_login" --header="soda-passwd: your_password"
"http://server/pub/hc3v4_similarity_forecast.php?geopoint=latitude,longitude&elevation=altitude ...
&firstday=yyyy-mm-dd&lastday=yyyy-mm-dd&duration=time_step&time=time_reference&slope=tilt_of_panels ...
&azimuth=az_of_panels&albedo=ground_albedo&horizon=boolean_horizon&soda-user=your_login"
Inputs:
HelioClim version is "4"

latitude

and

longitude

: in degrees, with at least 3 digits after comma, e.g. "geopoint=45.563,7.25"

altitude

: in meters. Set "elevation=-999" to let SoDa get the elevation from Nasa SRTM database

yyyy-mm-dd

: the firstday and lastday MUST be identical and equal the date of the next day

time_step

: "1", "5", "10", "15", "30" (minutes), "h" (hourly), "d" (daily)

time_reference

: "TU" (universal time) or "TST" (True Solar Time)

tilt_of_panels

: from "0" (horizontal) to "90", and "-999" (sun tracking)

az_of_panels

: from "0" (North), 90° (East), 180° (South) to 270° (West), and "-999" (sun tracking)

ground_albedo

: from "0.0" to "1.0". A usual inland value is "0.2" (default).

boolean_horizon

: takes into account "1" or not "0" the far horizon. If not set, default value is "0".
Outputs:
Compared to the output column content available in the standard HelioClim-3 services, two points differ:
the header is by default available
a column of code is available before the last column of Top of Atmosphere irradiation values:
Code: 0: no data; 1: sun below horizon; 2: satellite assessment; 5: interpolation in time; 6: forecast
NB: For the SoDa Customers who already exploit the output format of hc3v4_request.php, it is possible to get back to this format by adding the following parameters "rely=0&header=0"
Error messages
ERROR -1: Incorrect tilted plane parameter
ERROR -2: Cannot open file
ERROR -3: Cannot write to file
ERROR -4: Cannot read file
ERROR -5: Not enough memory
ERROR -6: Cannot access remote data
ERROR -7: Helioclim service is corrupted
ERROR -8: Unregistered IP address
ERROR -9: Incorrect location parameter
ERROR -10: Incorrect time step parameter
ERROR -11: Incorrect date parameter
ERROR -12: Incorrect horizon parameter
ERROR -13: Incorrect elevation parameter
ERROR -14: Incorrect stations file
ERROR -15: Subprogram failed with no error message
ERROR -16: Incorrect calibration parameter
ERROR -17: Incorrect user/password parameters
ERROR -18: Incorrect albedo parameter
ERROR -19: Incorrect time reference parameter
ERROR -21: Incorrect rely parameter
ERROR -22: Incorrect header parameter
ERROR -23: HC3 database is not updated
ERROR -24: This service is out the scope of your SoDa subscription
ERROR 1: No data available with these input parameters
(generic message if the error is unknown)
Validation
Please find below the validation results corresponding to the validation results for the Global Horizontal Irradiation values and for different time steps (monthly, daily, hourly and 15 min data). To produce these results, the HelioClim-3 version 4 Solar Similarity Forecast data at D+1 have been compared to the BSRN stations (see illustration below).
NB: we adopted the validation protocol and the quality check procedure described on the SoDa website.
Illustration: locations of the BSRN stations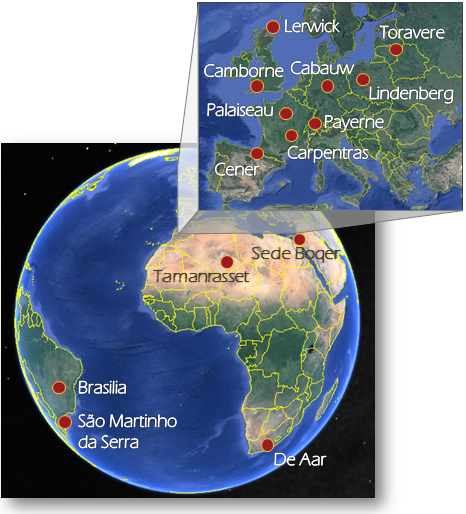 Quality assessment results of GHI values
HelioClim-3 v4 Solar Similarity Forecast service -- GHI Quality assessment results vs. the BSRN stations
MONTHLY SUM OF 15 MIN IRRADIATION
Station
Number of values
Mean
- BSRN -
(kWh/m2)
Bias HC3v4
(kWh/m2)
(relative in %)
Bias Forecast
(kWh/m2)
(relative in %)
RMSE HC3v4
(kWh/m2)
(relative in %)
RMSE Forecast
(kWh/m2)
(relative in %)
Correl. coeff.
HC3v4
Correl. coeff.
Forecast
Toravere
50
86.9
-2.8 (-3.2%)
-2.4 (-2.8%)
8.3 (9.6%)
11.1 (12.8%)
0.987
0.974
Cabauw
65
88.2
-3.1 (-3.5%)
-3.7 (-4.2%)
7.3 (8.3%)
12.0 (13.6%)
0.994
0.980
Palaiseau
54
103.7
3.5 (3.4%)
2.6 (2.5%)
6.0 (5.8%)
11.9 (11.5%)
0.998
0.981
Payerne
29
107.8
-8.5 (-7.8%)
-11.0 (-10.2%)
10.1 (9.4%)
16.2 (15.0%)
0.996
0.985
Carpentras
61
130.0
1.3 (1.0%)
-0.4 (-0.3%)
3.8 (2.9%)
9.2 (7.1%)
0.999
0.990
Sede Boqer
44
166.9
-11.7 (-7.0%)
-12.9 (-7.8%)
13.9 (8.3%)
14.2 (8.5%)
0.992
0.995
Tamanrasset
65
159.9
0.1 (0.1%)
0.2 (0.1%)
8.1 (5.1%)
10.6 (6.6%)
0.973
0.953
Brasilia
27
144.8
5.7 (4.0%)
8.5 (5.8%)
7.7 (5.3%)
12.6 (8.7%)
0.989
0.958
Sao Martinho da Serra
32
141.2
-1.9 (-1.3%)
-3.5 (-2.5%)
4.2 (3.0%)
10.9 (7.8%)
0.997
0.978
HelioClim-3 v4 Solar Similarity Forecast service -- GHI Quality assessment results vs. the BSRN stations
DAILY SUM OF 15 MIN IRRADIATION
Station
Number of values
Mean
- BSRN -
(Wh/m2)
Bias HC3v4
(Wh/m2)
(relative in %)
Bias Forecast
(Wh/m2)
(relative in %)
RMSE HC3v4
(Wh/m2)
(relative in %)
RMSE Forecast
(Wh/m2)
(relative in %)
Correl. coeff.
HC3v4
Correl. coeff.
Forecast
Toravere
1481
2795.3
-82.1 (-2.9%)
-56.4 (-2.0%)
445.3 (15.9%)
1140.4 (40.8%)
0.978
0.843
Cabauw
1946
2940.1
-103.6 (-3.5%)
-123.1 (-4.2%)
378.1 (12.9%)
1106.9 (37.6%)
0.987
0.868
Palaiseau
1639
3412.4
114.2 (3.3%)
101.1 (3.0%)
332.4 (9.7%)
1144.7 (33.5%)
0.991
0.867
Payerne
877
3558.8
-278.9 (-7.8%)
-360.5 (-10.1%)
467.7 (13.1%)
1263.8 (35.5%)
0.987
0.862
Carpentras
1824
4359.2
43.5 (1.0%)
-14.4 (-0.3%)
319.3 (7.3%)
1168.1 (26.8%)
0.992
0.881
Sede Boqer
1287
5647.8
-398.2 (-7.1%)
-418.3 (-7.4%)
553.4 (9.8%)
741.6 (13.1%)
0.981
0.949
Tamanrasset
1723
5624.6
6.3 (0.1%)
25.3 (0.4%)
566.3 (10.1%)
902.5 (16.0%)
0.908
0.762
Brasilia
761
5073.7
194.7 (3.8%)
306.4 (6.0%)
583.5 (11.5%)
1046.0 (20.6%)
0.911
0.662
Sao Martinho da Serra
970
4721.2
-67.2 (-1.4%)
-148.5 (-3.1%)
405.3 (8.6%)
1742.7 (36.9%)
0.986
0.672
HelioClim-3 v4 Solar Similarity Forecast service -- GHI Quality assessment results vs. the BSRN stations
HOURLY SUM OF 15 MIN IRRADIATION
Station
Number of values
Mean
- BSRN -
(Wh/m2)
Bias HC3v4
(Wh/m2)
(relative in %)
Bias Forecast
(Wh/m2)
(relative in %)
RMSE HC3v4
(Wh/m2)
(relative in %)
RMSE Forecast
(Wh/m2)
(relative in %)
Correl. coeff.
HC3v4
Correl. coeff.
Forecast
Toravere
18095
221.9
-6.0 (-2.7%)
-3.3 (-1.5%)
60.3 (27.2%)
126.5 (57.0%)
0.958
0.800
Cabauw
22886
249.6
-9.0 (-3.6%)
-10.8 (-4.3%)
56.7 (22.7%)
126.9 (50.8%)
0.968
0.821
Palaiseau
19680
285.1
9.3 (3.3%)
6.6 (2.3%)
51.4 (18.0%)
134.1 (47.1%)
0.978
0.830
Payerne
10167
306.7
-24.3 (-7.9%)
-31.6 (-10.3%)
67.3 (22.0%)
144.3 (47.1%)
0.970
0.839
Carpentras
21959
362.3
3.5 (1.0%)
-1.9 (-0.5%)
47.2 (13.0%)
133.7 (36.9%)
0.986
0.878
Sede Boqer
14417
505.6
-35.3 (-7.0%)
-39.0 (-7.7%)
69.2 (13.7%)
98.0 (19.4%)
0.982
0.957
Tamanrasset
20996
479.2
0.7 (0.1%)
0.4 (0.1%)
71.7 (15.0%)
120.6 (25.2%)
0.974
0.926
Brasilia
9428
417.1
16.4 (3.9%)
24.2 (5.8%)
110.4 (26.5%)
154.2 (37.0%)
0.933
0.860
Sao Martinho da Serra
11567
396.3
-5.8 (-1.5%)
-13.0 (-3.3%)
73.3 (18.5%)
190.6 (48.1%)
0.971
0.787
HelioClim-3 v4 Solar Similarity Forecast service -- GHI Quality assessment results vs. the BSRN stations
15 MIN IRRADIATION
Station
Number of values
Mean
- BSRN -
(Wh/m2)
Bias HC3v4
(Wh/m2)
(relative in %)
Bias Forecast
(Wh/m2)
(relative in %)
RMSE HC3v4
(Wh/m2)
(relative in %)
RMSE Forecast
(Wh/m2)
(relative in %)
Correl. coeff.
HC3v4
Correl. coeff.
Forecast
Toravere
71550
61.6
-2.0 (-3.2%)
-1.7 (-2.8%)
20.4 (33.2%)
36.0 (58.5%)
0.935
0.779
Cabauw
88643
64.7
-2.3 (-3.5%)
-2.7 (-4.2%)
19.0 (29.4%)
35.3 (54.6%)
0.944
0.787
Palaiseau
76660
73.4
2.4 (3.3%)
1.8 (2.5%)
18.1 (24.7%)
37.5 (51.1%)
0.957
0.795
Payerne
39758
78.6
-6.2 (-7.8%)
-8.0 (-10.2%)
21.3 (27.1%)
39.2 (49.9%)
0.951
0.814
Carpentras
84383
94.4
1.0 (1.0%)
-0.4 (-0.4%)
15.6 (16.5%)
36.2 (38.3%)
0.975
0.856
Sede Boqer
56695
130.7
-9.2 (-7.0%)
-10.1 (-7.7%)
20.7 (15.8%)
27.2 (20.8%)
0.970
0.943
Tamanrasset
80956
128.4
0.1 (0.1%)
0.1 (0.1%)
23.0 (17.9%)
34.8 (27.1%)
0.958
0.903
Brasilia
36273
110.2
4.6 (4.2%)
6.7 (6.0%)
37.1 (33.7%)
45.7 (41.5%)
0.881
0.807
Sao Martinho da Serra
44186
104.3
-1.4 (-1.4%)
-3.2 (-3.1%)
24.7 (23.7%)
51.9 (49.8%)
0.949
0.749