| | | |
| --- | --- | --- |
| SoDa products | | Last update: May 2017 |
Annual subscriptions
Value-added services
Annual subscriptions
HC3 time series:

from Feb. 2004 to d-2 for version 5
from Feb. 2004 to d-1 for version 4

Test the free version of the interface (Feb. 2004-2006)
Test the free version of the automatic access (City of Carpentras, France)

HC3 time series:

Real time: updated as soon as a new image is available
Short-term forecasts: Persistence model to complete the time series until the end of the day

HC3 maps in real time provides 15 min Global Horizontal Irradiation bitmap Maps or Ultra-violet Maps in TIFF format in real time (h-15 min) on a given area, and during daylight time from 3:00 TU to 20:45 UT.
-
HC3 forecasts d+x: "HelioClim-3 Similarity Forecast service".
Automatic access to GFS archives meteorological data
-
Automatic access to MERRA archive meteorological data (until current month-1)
Value-added services
Time series HelioClim-3 archive data:

from Feb. 2004 to d-2 for version 5
from Feb. 2004 to d-1 for version 4

Provision of one, a few, or of a large volume of HelioClim-3 version 5 time series.
Output format: CSV for small datasets, HDF5 possible for large volumes.

-
Download an example of time series for Carpentras

TMY

Calibration

Possibility to apply calibration parameters to automatic requests to HelioClim-3

Maps of radiation, of temperature corrected with height

Volume of data

Data completion of missing ground station measurements using calibrated HelioClim-3

Training in solar radiation, QGIS...
Other services
Contact us to retrieve for free in a CSV file the pixel locations (centers or corners) of the Meteosat Second Generation satellite for the area of your choice.
APOLLO-derived cloud statistics service: Test the service here
Provision of report to demonstrate that the month of July 2014 underestimates the radiation in the past 11 years. Example of report, Valence, France
this poster offers a brief presentation about SoDa and about the applications of the HelioClim databases. This is a contribution to the state-of-the-art workshop COST ES1002 WIRE (Weather Intelligence for Renewable Energies), March 22-24th 2011.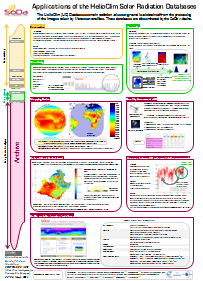 TO BE UPDATED...