SoDa delivers solar radiation and meteorological tools for solar PV and solar thermal powerplant prospection and monitoring, and for agriculture and health domains.
SoDa services are valorized in companies' activities:
estimation of profitability of solar energy prospects projects;

monitoring of solar powerplants performances;

management of electricity sales on the market from solar forecast data;

decision-making tools in agriculture and health with spectral radiation datasets.
It is a broker to many services delivering altitude and meteorological data, sun / earth geometry, atmosphere components, and typical years of atmosphere attributes.
SoDa also contributes to the creation of solar atlases and solar cadasters.

First visit
Dear visitor, welcome to this website related to solar radiation.
SoDa, this is more than:
76 000 unique visitors in 2018 and more than 170 000 visits
135 Millions of automatic requests to the HelioClim-3 radiation values received in 2018, which represents more than 369 000 requests every day
170 testimonies on real cases from users
70 current annual subscriptions to access HelioClim-3
WEB SERVICES
Download free volumes of CAMS radiation data over Europe or Africa

(Click on the images for more info)
SODA PRODUCTS
- Annual subscriptions -
- Value-added services, on demand -
HELP - MORE INFO ON
General knowledge

HelioClim

CAMS products

Validation results

Automatic accesses
| | | | |
| --- | --- | --- | --- |
| | | | |
| | | | |
| Release notes | Publications | Other links | FAQ |
MISCELLANEOUS: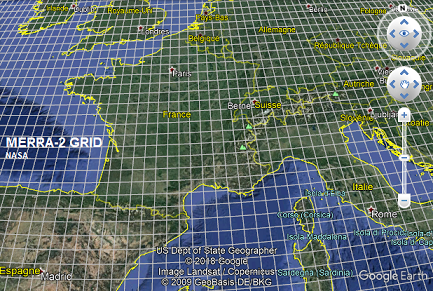 SOLAR TRAINING
Solar Training 2020 was a success!
SoDa team thanks you for your participation in the annual solar training.
We treasured your time with us, and we hope you went back home with useful and profitable knowledge about solar science and its applications.
We look forward to making our next training session even more useful and to provide you new useful services for your activities!
Please do not hesitate to contact us for any question about this program!