| | |
| --- | --- |
| Helioclim-3 missing data | Last update: October 2020 |
missing days of data due to Meteosat failures - missing days of data due to sun elevation - missed slots of data but interpolated in HelioClim-3 service
The missing value is -999. When you retrieve HelioClim-3 time series, you receive missing values ONLY IF THE WHOLE DAY OF DATA IS MISSING. If at least one Meteosat image has been collected in a given day, all the 15 minute values are interpolated.
Two reasons cause a full missing day:
either an Eumetsat service failure: maintenance on the satellite, outage in the slot transmission...
or the sun elevation is below 12°, which is our threshold below which the HelioClim-3 data are not computed.
In any case, pay attention to discard the -999 values in the SoDa output CSV file retrieved via one of the HelioClim-3 services. If you forget, summing up the columns in your file will lead to incorrectly low values.
| Year | days |
| --- | --- |
| 2004 | 5 and 6 October |
| 2005 | 24 to 29 August |
| 2006 | 11 September |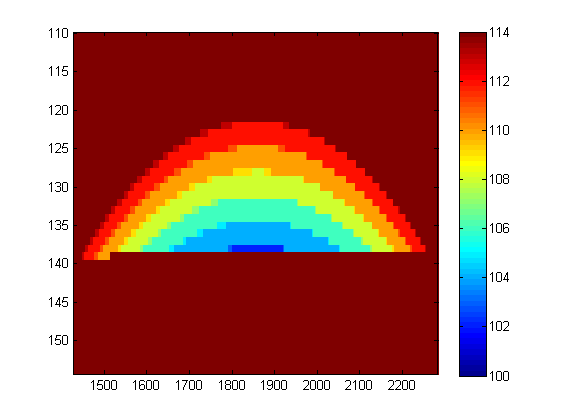 More than 100 days with missing values (-999) in the high latitudes.
The reasons for missing a slot of data are numerous: local electrical or network failure, problem on the satellite or at Eumetsat during the slot transfer... In this last case, Eumetsat emits a warning issue, and the images can not be retrieved by any mean (MS = Missing Slot).
yes/no: in line/not in line with Eumetsat warnings. Numbers between brackets correspond to the announcement number indicated in the list of satellite events. You can use this link and type the announcement number in the research menu to take a look to the corresponding event.
NB: in the past, we made the distinction between a Missing Slot, and a slot received but considered as corrupted by our image quality routines, which resulted in Not Updating (NU) the HelioClim-3 database. This distinction has not been maintained.
Month
slot (yyyy-mm-dd-HH-MM)
Event and comment
(Eumetsat announcement number)

2020

November
2020-11-26 at 8:45

n

o

.
October
2020-10-20 at 16:45
yes. Ground-segment maintenance (6357).
2020-10-12 at 11:45
yes. Sun co-linearity (6310).
2020-10-11 at 11:45, 12:00
yes. Sun co-linearity (6310).
2020-10-10 at 11:45, 12:00
yes. Sun co-linearity (6310).
2020-10-09 at 11:45
yes. Sun co-linearity (6310).
2020-10-02 at 05:45, 13:45, 14:30, 16:15, 16:30, 18:30, 19:45

n

o

. Due to rain falls.
September
2020-09-24-13:30

n

o

.
August
2020-08-04-04:30 and 04:45

n

o

. Due to rain falls.
2020-08-03-13:15

n

o

.
June
2020-06-13-09:15

n

o

. Due to rain falls.
2020-06-04-05:45 and 06:45

n

o

. Due to rain falls.
May
2020-05-23-17:15

n

o

.
2020-05-14 20:00 and 20:15

n

o

. Due to rain falls.
2020-05-11 04:15, 04:30 and 04:45

n

o

. Due to rain falls.
2020-05-01-20:30

n

o

.
April
2020-04-18-14:15 and 14:30
yes. Ground segment anomaly.
March
2020-03-06-12:15
yes. Sun co-linearity (5584).
2020-03-05-12:15
yes. Sun co-linearity (5584).
2020-03-04-12:15 and 12:30
yes. Sun co-linearity (5584).
2020-03-03-12:15
yes. Sun co-linearity (5584).
2020-03-01-11:15

n

o

.
February
2020-02-23-19:15

n

o

.
2020-02-04 12:00
yes. In plane-manoeuvre (5581).
January
2020-01-17 18:30

n

o

.
2020-01-16 09:45

n

o

. Dark line on MSG visible image.

2019

December
2019-12-18 11:45

n

o

.
2019-12-04 10:15
yes. Data unavailable due to ground-segment-anomaly.
2019-12-01 18:30, 18:45

n

o

. Due to rain falls.
November
2019-11-23 10:45

n

o

. Due to rain falls.
2019-11-13 11:15
yes. Data unavailable due to ground-segment-maintenance (5331).
2019-11-11 14:00, 14:15, 14:30
yes. Data unavailable due to ground-segment-anomaly (5336). Service has been resumed.
2019-11-03 07:15, 07:30

no

. Due to rain falls.
October
2019-10-24 09:15, 09:30, 09:45

no

. Due to rain falls.
2019-10-23 16:30

no

. Due to rain falls.
2019-10-20 15:15, 15:30

no

. Due to rain falls.
2019-10-19 08:45, 09:15

no

. Due to rain falls.
2019-10-16 12:15
yes. Data unavailable due to sun co-linearity (5153).
2019-10-15 03:00, 03:45, 05:00, 09:00, 12:00

no

. 5 slots missed due to rainfall.
2019-10-12-11:45
yes. Data unavailable due to sun co-linearity (5153).
2019-10-11-11:45
yes. Data unavailable due to sun co-linearity (5153).
2019-10-10-11:45
yes. Data unavailable due to sun co-linearity (5153).
2019-10-08-10:30 to 2019-10-08-10:45
yes. Data unavailable due to sun co-linearity (5153).
September
2019-09-13-11:45
yes. Ground-segment-anomaly
August
2019-08-24-15:45

no

.
2019-08-17-07:15

no

.
July
2019-07-27-13:00 to 2019-07-27-13:15

no

. Due to rain falls.
2019-07-01-14:45 to 2019-07-01-15:15

no

.
May
2019-05-24-14:00 and 2019-05-24-14:30
yes. Ground-segment-anomaly (4823).
2019-05-14-10:15
yes. Ground-segment-anomaly (4793).
2019-05-06-15:45
no
April
2019-04-12-10:15 and 2019-04-12-12:00
yes. Ground-segment-anomaly (4714).
2019-04-09-09:00
no
2019-04-03-14:15 and 2019-04-03-15:30

no

. Due to rain falls.
March
2019-03-12-12:45 to 2019-03-12-13:45
yes. Due to a ground segment problems (4025)
2019-03-06-12:15 and 2019-03-07-12:15
yes. Sun-colinearity (4527).
2019-03-05-11:15 and 2019-03-05-12:15
yes. Sun-colinearity (4527).
February
2019-02-01-16:45
yes. EUMETCAST ground segment anomaly (4314).
January
2019-01-22-15:00 to 2019-01-22-16:00
yes. EUMETCAST ground segment anomaly.

2018

December
2018-12-19-17-45

no

. Due to rain falls.
November
2018-11-19-09-45
yes. EUMETCAST ground segment anomaly (4308).

2018-11-06-07-30

2018-11-06-07-45

no

. Due to rain falls.
October
2018-10-30-14-15

no

. Due to rain falls.
2018-10-29-14-00

no

. Due to rain falls.
2018-10-13-11-45

yes

. Sun Colinearity (4194)
2018-10-12-11-45

yes

. Sun Colinearity (4194)
2018-10-11-14-45
yes. Sun-interference (4195)
2018-10-11-11-45

yes

. Sun Colinearity (4194)

2018-10-10-15-15

2018-10-10-19-30

no

. Due to rain falls.
2018-10-10-11-45

yes

. Sun Colinearity (4194)

2018-10-07-18-45

2018-10-07-20-00

no

. Due to rain falls.
September

2018-09-27-07-30

2018-09-27-07-45

yes

. Planned maintenante (4184).
2018-09-14-10-30
no
2018-09-06-14-00
no
August
2018-08-13-06-45
no
2018-08-01-07-45
no
July
2018-07-18-08-30
no. Incomplete slots.
2018-07-16-14-15, 2018-07-16-14-30 2018-07-16-14-45
Due to heavy rain falls.
2018-07-12-13-30, 2018-07-12-13-45 2018-07-12-14-00
yes. The Eumetcast service on Transponder 1 is not available until further notice (3976).
2018-07-11-03-00, 2018-07-11-03-15 2018-07-11-08-00

yes

. Mission swap between MET-11 and MET-9 (3974 and 3975).
2018-07-05-11-45 2018-07-05-15-30
no. Incomplete slots.
2017-07-04-04-00 2018-07-04-04-45
no. Incomplete slots.
2018-07-03-13-30 and 2017-07-03-13-45
yes. EUMETCAST ground segment anomaly (3958).
June
2018-06-20-09-15 until 2018-06-20-09-45
yes. EUMETCAST ground segment anomaly (3920).
2018-06-06-09-30
yes. EUMETCAST maintenance (3873).
May
2018-05-25-08-00 2018-05-25-08-15

yes

. SoDa maintenance.
2018-05-21-19-00 until 2018-05-21-19-30
no
2018-05-13-11-00, 2018-05-13-11-15 and 2018-05-13-12-00
no
2018-05-07-04-45, 2018-05-07-12-00 and 2018-05-07-12-15

no. for the first missing slot.

yes. Ground-segment-anomaly (3804) for second and third slot.

2018-05-03-08-30
no
April
2018-04-04-09-15 until 2018-04-04-11-30
yes. Outage (3726).
March
2018-03-21-12-15
yes. Planned Maintenance.
2018-03-20-09-15 until 2018-03-20-09-30
yes. Planned Maintenance (3670).
2018-03-06-12-15
yes. Sun interference may affect the EUMETCast broadcast satellites. Users might experience lower signal margin or outages on EUMETCast. The exact times and durations of the signal degradation or outages depend on the reception location (3602).
2018-03-01-03-00 until 2018-03-01-04-45
Due to heavy snow falls.
February
2018-02-24-19-30

no

2017

December
2017-12-04-19-45 and 2017-12-04-20-00

no

November
2017-11-14-12-15

no

2017-11-07-07-15 until 2017-11-07-08-15

yes

. Due to ground-segment-anomaly (3306).
October
2017-10-13-11-45

yes

. Due to sun-colinearity (3220).
2017-10-12-11-45
2017-10-11-11-45
2017-10-10-11-45
September
2017-09-22-11-30 until 2017-09-22-12-15

yes

. Due to a ground segment anomaly (3209).
2017-09-09-12-30 until 2017-09-09-13-15
Due to heavy rain falls.
August
2017-08-31-18-30 and 2017-08-31-18-45
no
2017-08-28-13-15
no
2017-08-04-18-15
no
July
2017-07-17-14-15 and 2017-07-17-17-15

yes

. Due to a ground segment anomaly data dissemination could be delayed by several minutes (3911).
2017-07-16-12-00
no
June
2017-06-22-11-45
no
2017-06-01-12-30

yes

. Essential Ground Station Maintenance. There is a risk for short interruptions or degradation during the maintenance period (2906).
May
2017-05-01-04-00
no
April
2017-04-25-09-30 until 2017-04-25-13-00

yes

. Intermittent losses can be expected until further notice. Investigation is ongoing (2824).
2017-04-04-09-30
yes. Planned maintenance. Provider maintenance: Up to 20 minutes of interruption of the service and risk of further interruptions during the maintenance period. The data delivery might be delayed and losses are expected. Receiver with low Link Margin might experience more losses during the whole maintenance period (2774).
March
2017-03-28-12-15
no. Several planned maintenance planned.
2017-03-22-09-00
no
2017-03-21-10-15
yes. Planned maintenance. 2 short interruptions (of 2 seconds) are expected, leading to some losses (2729).
2017-03-08-10-30
yes. Sun Co-linearity. Repeat cycles 12:00 and 12:15 may be affected (2640).
2017-03-03-11-15
2017-03-01-12-15
February
2017-02-28-12-15
2017-02-27-12-15
2017-02-26-12-15
2017-02-01-14-15
no
January
2017-01-23-17-30
yes. Due to a Eumetcast problem that is currently under investigation, users are advised that data on all services may be incomplete (2517).
2017-01-11-10-45
yes. Data-unavailable. Due to a Eumetcast problem that is currently under investigation, users are advised that data on all services may be incomplete. This may occur intermittently (2517).
2017-01-10-15-45
2017-01-09-14-30
no
2017-01-07-11-45
no

2016

October
2016-10-20-09-30
no
2016-10-15-12-30 until 2016-10-15-14-15
yes. Service interrupted. MET-9 operates in Full Earth Scan mode for service continuity and MET-9 data is disseminated instead (2290 and 2291).
2016-10-14-07-45, 2016-10-14-08-15 and 2016-10-14-08-30
yes. Sun interference may affect the EUMETCast broadcast satellites. Users might experience lower signal margin or outages on EUMETCast. The exact times and durations of the signal degradation or outages depend on the reception location (2205 and 2231).
2016-10-13-12-00, 2016-10-13-14-00, 2016-10-13-14-15 and 2016-10-13-16-00
2016-10-12-11-45 and 2016-10-12-12-00
2016-10-10-11-45 and 2016-10-10-18-00
2016-10-09-11-45
2016-10-08-09-30
2016-10-07-11-00
2016-09-01-10-30
no
September
2016-09-22-09-00
no
August
2016-08-24-09-45
yes. Planned Maintenance (2136).
2016-08-18-17-30
no
2016-08-17-09-45
yes. Planned Maintenance (2109).
2016-08-15-12-00
no
2016-08-12-09-30
yes. Missing segments for Prime SEVIRI HRIT to DVB at 9:30 and 9:45 and for RSS SEVIRI HRIT to DVB at 9:45 (3056).
2016-08-09-12-45
no
2016-08-05-14-15
no
July
2016-07-28-09-00 and 12-45
yes. Ground-segment-anomaly - data-unavailable (3016 and 3017).
2016-07-25-11-45
no
2016-07-20-15-15
yes. Ground-segment-anomaly - data-unavailable (2977).
June
2016-06-16-16-30
yes. Severe thunderstorm event
2016-06-13-15-30
no
2016-06-10-09-00 to 09-45
yes. Ground-segment-anomaly. Service has been resumed (2888).
2016-06-09-17-00
no
2016-06-08-14-00 and 14-30
yes. Ground segment anomaly. The MET-10 Southern HRV window shift scheduled for 14:00 repeat cycle, instead took place in the repeat cycle commencing at 14:30. 14:00 repeat cycle had HRV and IR13.4 Channels affected. 14:15 repeat cycle was unavailable for all channels. Service has been resumed (2881).
2016-06-05-14-15

yes

. Slot corrupted
May
2016-05-29-07-30 to 07-45
no
2016-05-11-07-30 to 08-15
yes. EUMETCAST-outage (2819).
April
2016-04-25-18-45
yes. Ground-segment-anomaly. Service has been resumed (2782).
2016-04-21-14-15
yes. The 14:15 Repeat Cycle has not been disseminated. Service has been resumed. Nominal service resumed at 14:30 UTC (2774).
2016-04-08-05-30
yes. Slot rejected
March
2016-03-22-15-15

no

2016-03-17-11-15
yes. Planned Maintenance (1622).
2016-03-11-06-00
yes. Slot rejected
2016-03-01 11:15 and 12:00
yes. Sun Co-linearity (until 5 March 2016).
February
2016-02-29-12-00 to 12-15
yes. Sun Co-linearity. Repeat cycles 12:00 and 12:30 UTC affected (until 5 March 2016) (1639).

2016-02-28-12-00 to 12-15
2016-02-27-12-00
January
2016-02-07-09-45
no

2015

December
2015-12-10 or earlier until 2015-12-14-18-00
We were using the OpenLayers javascript files 2.12, and were downloaded using a URL on the OpenLayers server that has been discarded. This impacted all the web services which uses maps.
2015-12-12-12-00 to 18-00
Service down at MINES ParisTech because of a electric shortage.
2015-12-08-14-45, 15-30 and 16-00

yes

. Meteosat-10 SEVIRI decontamination. During this period, Meteosat-8 image data (rectified to 0 deg) and meteorological products will replace the Meteosat-10 service. An outage of up to two repeat cycles can be expected when switching to and from Meteosat-8. Rectification by Eumetsat to correct the position of Met-8. Consideration of new slot by HC3 infected.
November
2015-11-16-08-30 and 08-45
yes. The 08.30 and 08.45 Repeat Cycles were interrupted or not available. Service has been resumed since 09.00 (2451).
2015-11-15-03-30, 03-45, 04-00, 04-15, 04-30, 04-45, 05-00, 05-15, 05-30, 05-45, 17-00 and 17-15

yes

. Service interrupted. Met-10 data is still interrupted. MET-8 operates in Full Earth Scan for service continuity and MET-8 data is disseminated instead (2447 and 2449).
October
2015-10-21-10-00

yes

. EUMETSAT ground-segment-anomaly (2406).
2015-10-10-11-45, 2015-10-11-11-45 and 2015-10-12-11-45

yes. Sun interference may affect the EUMETCast broadcast satellites. Users might experience lower signal margin or outages on EUMETCast. The exact times and durations of the signal degradation or outages depend on the reception location. Satellite information: - EUMETCast Europe DVB-S2: EUTELSAT 10A - EUMETCast Africa: EUTELSAT 5 WEST A - EUMETCast Americas: SES-6: http://www.satellite-calculations.com/Satellite/suninterference.php (1306)

2015-10-07-11-15
no
2015-10-06-07-30
no
2015-10-03-17-45 to 19-45
Severe thunderstorm event on the whole French Riviera. Electricity failure at MINES ParisTech, service is back on Oct. 5th at approx. 15:00. Water in the server room at Transvalor, but no service failure has been reported.
2015-10-01 to 2015-10-02
A bug has been introduced in the update of the McClear clearsky model. Affected services were McClear, MACC6RAD and HelioClim-3v5. The services are back on the next day.
September
2015-09-13-03-00, 03-30, 03-45, 04-45, 05-00, 05-15 and 06-00
Due to severe local storms
August
2015-08-24-15-45 to 16-00
Due to heavy rain falls.
2015-08-12-06-00
2015-08-10-07-15 and 09-15
no
2015-08-03 and 2015-08-04
The HC3 database has not been updated at MINES ParisTech. The problem is being repaired (August 4th, 11:00)
July
2015-07-29-10-30
no, image corrupted
2015-07-13 to 2015-07-15
The SoDa Service was disturbed at MINES ParisTech (www.soda-is.com) due to oo numerous automatic requests launched by a customer to the service hc3v4_forecast.
2015-07-10-03-00
no
2015-07-07-14-15
yes
2015-07-02-11-15
yes
June
2015-06-24-09-30
yes
2015-06-14-05-15, 05-30, 05-45 and 12-00
no, certainly due to severe local storms
2015-06-09-04-30
yes
May
2015-05-10-19-30
yes
April
2015-04-28-07-45 to 08-30 and 12-00 to 12-30
yes
2015-04-22-13-00
yes:


"METEOSAT 0 DEG SERVICE
22 April 2015 09:00 UTC
Introduction of MSG MPEF (Meteorological Product Extraction Facility) Release 2.1.
Main changes in this release include a new version of RTTOV (Radiative Transfer Model) and improvements to the OCA (Optimal Cloud Analysis) product.

22 April 2015 13:00 - 13:15 UTC
Essential ground segment maintenance.
During this maintenance period there is a risk of interruption to the 0-Degree Service.

March
2015-03-18-10-00, 16-00 and 16-30
yes
2015-03-05-11-15
no
2015-03-03-11-15, 12-00, 12-15 and 12-30
yes for the two slots 12-00 and 12-15
2015-03-02-12-00 and 12-15
yes
2015-03-01-12-00 and 12-15
yes
January
2015-01-24-09-45, 10-00, 10-15 and 20-00
MS, yes except for the last one
2015-01-20-09-30, 09-45 and 10-00
MS, yes
2015-01-16-20-45
MS

2014

December
2014-12-27-18-30
MS
2014-12-19-08-00
MS
2014-12-08-06-45 and 07-00
MS, yes
2014-12-06-05-30
MS
2014-12-04-14-30
MS
2014-12-03-05-30
MS
2014-12-02-19-15
MS
November
2014-11-30-19-45
MS
2014-11-25-11-45
MS, yes
2014-11-20-15-15
MS, no
2014-11-04-11-00, 15-45, 16-30 and 18-00
MS. planned ?
October
2014-10-29-07-00
MS, yes
2014-10-13-10-30, 11-00 and 13-00
MS, no
2014-10-12-11-45
MS, yes
2014-10-11-11-45
MS, yes
2014-10-10-11-45
MS, yes
2014-10-09-11-45
MS, yes
September
2014-09-26-09-15
MS, no
August
2014-08-15-14-15, 14-45, and 15-00
MS, yes
2014-08-13-08-15 and 08-45
MS, ?
2014-08-10-15-00, 15-15, 17-15 and 17-30
MS, ?
July
2014-07-10-17-45
MS, ?
2014-07-02-10-15 to 10-30 and 11-00 to 11-15
MS, ?
2014-07-01-05-15
MS, ?
June
2014-06-27-11-00
MS, ?
2014-06-11-05-15
MS, ?
2014-06-09-04-30
MS, ?
May
2014-05-03 to 2014-05-04
SoDa Service failure at MINES ParisTech: The SoDa server at MINES ParisTech (Magnum) was down since May 3rd, blocking the update of the database and the synchronisation with the mirror Service. The Service was was at MINES ParisTech around 4 PM on May 5th.
April
2014-04-21-11-00
MS, no
March
2014-03-26-03-00 to 03-15
MS, yes
2014-03-04-12-00 and 12-15
MS, no
2014-03-03-12-00 and 12-15
MS, no
2014-03-02-12-00 and 12-15
MS, no
February
2014-02-04-10-00 to 16-00
Service down in MINES ParisTech: Migration of the SoDa website from a old to a new server. The SoDa Service was back in the afternoon at 4 PM local time (UT+1). The Customer was informed only the day after that the Service was back to avoid any problem during the update of the database at night.
January
2014-01-29-09-00
MS, no
2014-01-23-17-00
MS, no
2014-01-13-04-15
MS, no

2013

December
2013-12-12-10-15 and 10-30
MS, yes
November
2013-11-26-10-00 to 16-00 legal time (UT+1)
Service down in MINES ParisTech: Migration of the SoDa website from the old to the new network. The SoDa Service was actually back at 16:30 as announced in the emails sent to the Customers.
2013-11-25-08-45
MS, no
October
2013-10-14-11-30 and 11-45
MS, no. Please also note that two images of this day were corrupted at MINES ParisTech: 14-30 and 14-45. The problem has been solved in due terms.
2013-10-13-11-30 and 11-45
MS, no
2013-10-12-11-45
MS, no
2013-10-11-18-00 to 22-00
Service down in MINES ParisTech: the service at MINES ParisTech has been interrupted during 4 hours due to a mishandling from the IT team. No major consequence has to be reported, except the loss of four days of monitoring logs (from Oct. 8 to 11 2013)
2013-10-11-11-45
MS, no
September
2013-09-29-11-30
MS, no
2013-09-26-14-30
MS, yes
2013-09-21-06-30 to 07-15 (4 slots)
MS, yes
2013-09-14-07-45
MS, yes
2013-09-10-14-00 to 2013-09-11-14-00
DNS down: an operation on the Domain Name Server had the consequence that both servers (www.soda-is.com and pro.soda-is.com) were down. The automatic requests seem to have succeeded during the night. The service was back and fully available on both sites from 14-00.
2013-09-07-04-00
MS, no
August
2013-08-18-08-00 to 11-00 (13 slots)
MS, yes
2013-08-14-08-15
MS, yes
July
2013-07-29-13-45
MS, yes
2013-07-29-05-15
MS, no
2013-07-10-20-30
MS, no
2013-07-09-09-00
MS, no. Following the text below, in the reverse operation on July 9th 2013, the system has correctly shifted to the adequate satellite, except that the image of 9:00 GMT has been missed in the transfer.
2013-07-01

NB: On July 1st 2013, the operational Meteosat 10 (MSG3) satellite has been replaced by his backup Meteosat 8 (MSG1). This had no effect on the HelioClim3 database.

June
2013-06-24-08-45, 09-00, and 09-15
MS, yes
2013-06-13-16-15
MS, yes
2013-06-04: 12:30
Down in MINES ParisTech: the SoDa service (website and wget accesses) weredown since 12:30 local hour (GMT+2). The problem has been solved at 14:15.
April
2013-04-23-12-15
MS, yes
2013-04-20-11-45
MS, no
March
2013-03-05-04-00, 04-15 and 04-30
MS, yes
2013-03-05-12-15
MS, no
2013-03-04-12-15
MS, no
February
2013-02-19-08-30 and 08-45
MS, yes
January

2012

December
2012-12-24 to 27
Service down in MINES ParisTech: during the Christmas holidays, the machines in MINESParisTech were not accessible anymore from the exterior, even if the images acquisition and update of the HelioClim3 database were still functioning. The service was back on Dec. 27th.
2012-12-12-14-15
MS, yes
November
2012-11-25
Pb in MINES ParisTech: the slot of 12:00 was missing in MINES ParisTech. The synchronisation process had to be launch again for Nov. 25th. The service was back and available on both sites on Nov. 26th 2012 around 2 PM local time.
2012-11-12-22-00 to 2012-11-13-16-00
SoDa out of order in MINES ParisTech: since Nov. 12th 2012 10 PM Legal Time, one of the 5 disks of the main SoDa server in MINES ParisTech went down (www.soda-is.com for the SoDa website and www.helioclim.org for the wget requests). During the day of Nov. 13th, the service totally out of order for maintenance reason. The service was back at 04 PM Legal Time, but to copy the images from Transvalor to MINES ParisTech and update the HelioClim3 database, an extra night was required. The service is fully back at Mines ParisTech on Nov. 14th.
October
2012-10-26-16-00 and 16-15
MS, no
2012-10-13-11-45
MS, no
2012-10-12-11-45
MS, no
2012-10-11-11-45
MS, no
2012-10-10-11-45
MS, yes
2012-10-04 to 05
SoDa out of order in MINES ParisTech: Between the 4th and the 5th of Oct.: All the webservices were out of service. The origin of the problem was a error of rights in the access of the server to the temp directory where all the output files are created.
September
2012-09-26-18-00
MS, no
2012-09-25
A Japanese company created a robot to automatically retrieve clear-sky values from a free service. To give you an order of the robot effect, more than 25 000 requests were made in a few hours, making appeared a few bugs in the administration of our Tomcat server, leading to regular stop of Tomcat. The IP from Japanese company has been blocked and bugs have been corrected. A correction is under development to block all robots to access the SoDa website.
2012-09-24-11-00 and 11-15
MS, yes
2012-09-24-09-45 and 10-00
MS, no
2012-09-24
In the morning, the service at MINES ParisTech was out of service during the morning. The origin of the problem is the service TOMCAT of managements of forms, which seemed to stop on the SoDa server. Recurrent problems concerning the different webservices of Mines ParisTech occur in Sept. 2012 due to a global re-organization of the internal network architecture.
2012-09-19
The service at Mines ParisTech was out of service between 04:00 AM to 03:30 PM due to a problem of configuration of the antivirus on the machine where Apache is running.
2012-09-15-06-00
MS, yes
2012-09-11-16-45
MS, yes
August
2012-08-31-03-00 to 04-00 (5 missing slots)
MS, yes
2012-08-25-19-45
MS, no
July
2012-07-29-18-30 and 18-45
MS, yes
2012-07-02
A few difficulties were faced due to the overload of a server. A few hours later, the problem has been solved.
June
2012-06-29-05-00
MS, yes
2012-06-26-06-30 and 06-45
MS, yes
2012-06-19-13-30
MS, yes
2012-06-13-03-45
MS, no
2012-06-03 to 2012-06-04
Apache was down at MINES ParisTech since June 3rd 16:00 until June 4th 10:00 local hour.
May
2012-05-26-11-45, 12-00 and 12-15
MS, yes
2012-05-24-15-15
MS, no
2012-05-23-07-15
MS, yes
April
2012-04-30-16-15
MS, no
March
2012-03-29-17-00 to 17-30
MS, yes
2012-03-07-18-00
MS, yes
2012-03-02-12-00
MS, no
2012-03-01-12-00 and 12-15
MS, no
February
2012-02-29-12-00 and 12-15
MS, yes
2012-02-28-12-00
MS, no
2012-02-28-09-30
MS, yes
2012-02-08-10-45
MS, yes
2012-02-01-09-00
MS, yes
January
2012-01-31-20-00
MS, no
2012-01-19-17-45, 18-00 and 18-15
MS, yes
2012-01-17-16-00
MS, yes

2011

December
2011-12-07-07-00
MS, no
2011-12-14-14-45
MS, yes
November
2011-11-06-09-30 and 10-15
MS, no
2011-11-05-07-00 and 18-00
MS, no
October
2011-10-19-08-30
MS, yes
2011-10-14-11-45
MS, no
2011-10-13-11-45
MS, yes
2011-10-12-11-45
MS, no
2011-10-11-14-45 and 15-00
MS, yes
2011-10-11-11-45
MS, no
2011-10-07-11-00
MS, yes
2011-10-06-14-15
MS, yes
2011-10-03-13-45 and 14-00
MS, yes
September
2011-09-24-03-00 and 14-00
MS, yes
2011-09-17-14-00
MS, yes
2011-09-17-08-30
MS, no
2011-09-11-13-30, 14-00 and 15-15
MS, yes
2011-09-10-03-00 and 14-00
MS, yes
2011-09-09-03-45
MS, yes
2011-09-05-03-00 and 03-15
MS, yes
2011-09-03-14-00
MS, yes
2011-09-01-10-15
MS, yes
August
2011-08-27-14-00
MS, yes
2011-08-26-18-00 and 18-15
MS, yes
2011-08-24-15-15
MS, yes
2011-08-20-14-00
MS, yes
2011-08-13-14-00
MS, yes
2011-08-11-16-30, 17-30, 18-30, 18-45, and 19-15
MS, yes
2011-08-06-14-00 and 14-45
MS, yes
2011-08-01-04-45
MS, no
July
2011-07-28-10-00
MS, yes
2011-07-27-07-15
MS, no
2011-07-13-15-00 and 15-15
MS, no
2011-07-12-17-00
MS, yes
June
2011-06-08-14-30
MS, no
2011-06-06-12-45
MS, yes
2011-06-05-10-30
MS, no
2011-06-05-09-00
MS, no
May
2011-05-29-14-45
MS, no
2011-05-21-14-00
MS, yes
2011-05-19-08-00 to 08-30
MS, yes
2011-05-13-19-30
MS, no
2011-05-11-11-45
MS, no
2011-05-10-09-15
MS, yes
April
2011-04-16-14-00
MS, yes
2011-04-09-14-00
MS, yes
March
2011-03-17-05-30 to 06-00
MS, yes
2011-03-16-19-45 to 20-45
MS, yes
2011-03-05-14-00
MS, yes
2011-03-03-12-00
MS, no
2011-03-02-12-00, and 12-15
MS, yes
2011-03-01-12-00, and 12-15
MS, yes
February
2011-02-28-12-15, and 13-00
NU
2011-02-28-12-00 to 12-45, and 13-15
MS, yes
2011-02-21-11-30, and 11-45
MS, yes
January
2011-01-31-17-00
MS, no
2011-01-30-17-00
MS, no
2011-01-28-17-00
MS, no
2011-01-22-03-00, and 03-15
MS, yes
2011-01-15-14-00, and 14-30
MS, ?
2011-01-07-06-30, and 06-45
MS, yes
2011-01-03-14-30
MS, yes

2010

December
2010-12-27-12-45
MS, yes
from 2010-12-26-19-00 to 20-45
MS, yes
2010-12-26-03-00
MS, yes
2010-12-16-08-00, and 08-15
MS, yes
2010-12-10-15-15
MS, yes
2010-12-08-09-30
MS, no
2010-12-02-10-15
MS, yes
2010-12-01-13-30
MS, no
November
2010-11-16-10-00
MS, yes
2010-11-10-11-30 to 12-00
MS, yes
2010-11-09-13-30
MS, yes
October
2010-10-31-10-45
MS, no
2010-10-21-08-45
MS, yes
2010-10-20-15-00
MS, yes
2010-10-14-14-45
MS, yes
2010-10-14-11-45
MS, no
2010-10-13-11-45
MS, yes
2010-10-12-11-45
MS, yes
2010-10-11-11-45
MS, yes
2010-10-04-15-15
MS, no
2010-10-02-14-00
MS, yes
2010-10-01-15-45
MS, yes
September
2010-09-08-03-00
MS, no
August
2010-08-27-15-30
MS, no
2010-08-27-09-30
MS, no
2010-08-23-16-00
MS, yes
2010-08-22-15-00
MS, no
2010-08-16-15-00
MS, no
2010-08-05-12-00
MS, no
July
2010-07-26-12-15
MS, no
2010-07-14-10-00
MS, yes
2010-07-14-09-45
MS, yes
2010-07-14: 09:00, 10:15, 18:15
MS, yes
June
2010-06-26-12-30
MS, no
2010-06-07-09-00
MS, no
2010-06-06-16-00
MS, no
2010-06-06-15-45
MS, yes
May
2010-05-05-09-30
MS, no