SOLAR CADASTRE TO ASSESS SOLAR RESOURCE ON ROOFTOPS AND PARKINGS
A solar cadastre delivers solar radiation data of rooftops and parkings at a specific region. This tool can provide you information about the solar potential of buildings roofs and about the economic viability of installing a solar power system on your rooftop.
This service requires high-resolution digital terrain surface data and solar radiation data:
Shuttle Radar Topography Mission (SRTM) giving the most complete high-resolution digital topographic database of Earth to compute the near and far horizon (considering hills, mountains, solar zenith angle, and solar elevation angle).
Digital Surface Model (DSM) giving information on the height of trees and buildings surrounding the rooftop but also the tilt, azimuth, and shape of the rooftop hosting the photovoltaic system to increase the accuracy of the local shadowing effect on rooftop buildings.
HelioClim-3 version 5 calibrated irradiation data to compute the Global Tilted Irradiation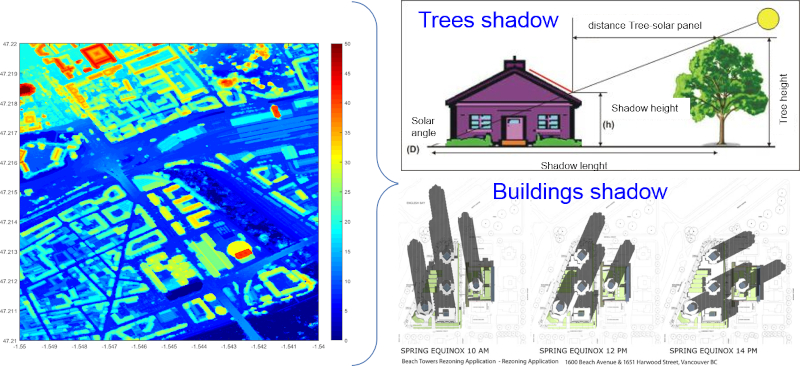 In Sun We Trust and SoDa carried out a solar cadastre over France providing high-quality first insight on the solar potential, the yield and the return on investment of photovoltaic installations over rooftops.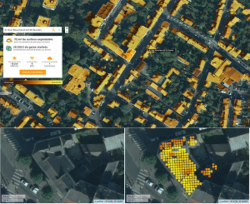 The solar cadastre provides solar radiation potential at the most precise resolution for every rooftop of towns, departments, regions.
This service is useful for each person wishing to install a photovoltaic system on their roof or for public services wishing to know the potential of electricity production from solar energy on their territory.
If you are interested in developping a solar cadastre over the region of your choice please contact us!